How to Plan a Photoshoot for your Life Science Website
Photography for your life science website is a critical element towards the design impact of your online presence. Unique photography explicitly produced for your website project will ensure it's unlike anyone else's.
But how do you get photo's you need?
The team at Arttia Creative have many years of hands-on experience planning, organising and art directing location photo-shoots. Helping you to create the imagery you need for your website project. We have experience from both sides, agency-side and client-side. Which means we can help you to plan for both. Experience from both agency and client sides gives Arttia Creative a unique perspective when organising and planning for a location or laboratory photo shoot.

We have a defined process to help you with life science website photography. We believe this makes us uniquely placed to understand the challenges you face, how to overcome them and deliver the best photoshoot and website photography.
In this article, we'll guide you with tips and insight, so you have the confidence to take action or commission a location photoshoot at your lab, organisation or office space. Either taking the pictures yourself or commissioning a photographer with the equipment and experience their service provides.
Why do you need to plan a session of photography for your website?

Time is everything; planning ahead will save you time and get you the best and most wide-ranging shots for use on your website project. Here are a few things to consider:
Calendar - planning backwards from when you need the images
Shot list, a list of images required for your website
A style guide or mood-board - art direction, ideas, creativity
When you need access to the location - dates and times
Who needs to be available
What props are needed
What equipment or products need to be available
Health and safety considerations
You should have easy access to people, places and products at the heart of your business. You know them intimately and understand what it is you have that makes you stand out from the competition.
If you can organise your location photoshoot directly, you are better able to capture the unique experience of what you offer as a life science business or organisation. If you need help, Arttia Creative can work with you to plan a productive location photoshoot for your project.
On the day of the shoot, you may have limited time, a few hours or the whole day, limited access, limited time with personnel. Whatever timings you have in mind, planning is going to allow you to produce the very best images for all of the pages and sections of your life science website project.
Unique photography makes that individual connection with your website visitors.
When to plan your life science website photoshoot
Images to support your website design are often considered after the project has been commissioned. Or even after the design and creative stages. We recommend planning photography as early as possible, as part of your content planning stage. At Arttia Creative, we have perfected a clear and efficient project delivery process providing peace-of-mind everyone involved.
As part of our process, we include discovery workshops, content audits and content planning. Our strategy workshop helps to create a project narrative that, together, with world-leading life science website design, we showcase your core messages and tell your story with both images and science copywriting.
A photoshoot process may be that, in partnership, we create a brief that supports your website objectives and brand identity to set up a shot list. This is then used to focus priorities; who needs to be present, when and where. This maximises the downtime that can be associated with any photoshoot, while giving a clear objective to the time invested in capturing powerful, relevant images.
The importance of a location photoshoot for website photography

Planning for a location photoshoot enables you to capture the unique experience of what you offer as a business. It can connect people looking for the challenges you deliver on with you as a service and companion. Unique photography helps to give confidence in you as a business and a remarkable solution. Our go-to professional photographers, The Bigger Picture Agency has the team and experience to deliver outstanding and scientific laboratory location shoots, where ever you are situated.
How to plan your website photoshoot

Draw up an action list for both your team and your life science website agency. An action list allows time for everyone invested in your website project to provide the information you need. This creates a list of the top-level considerations for pre-planning, including the following as a minimum:
What access to facilities and processes that are essential to convey your message
How comfortable the people within your organisation feel about being photographed.
Health and Safety limitations
The need for the image with accurate scientific representation AND a high visual impact
Different geographical locations
Being sensitive about revealing proprietary information
Access to facilities and processes that are essential to convey your message.
Make sure you have written approval to access rooms, laboratories or communal areas. This should be easier if you own the building or are the sole occupants. If it is a shared office or laboratory space there should be an approval process to go through to keep everyone informed and legal requirements covered.
How comfortable or prepared are the people within your organisation and how do they feel about being photographed.
Approval and co-operation from your team is essential. Some people don't like to be photographed and should be informed when the photo-shoot is planned so they can be excluded or work elsewhere. Some organisations require a written agreement for a team member to be photographed, allow time for this if you intend to include a lot of your team. It's great to let your team know how the images are to be used to get them excited to participate in the shoot. They may want to make sure they are looking their best on the day, so advance notice is always a good idea. Team members may also need to wear branded clothing, such as branded lab coats, face masks, safety hats or corporate colours. There may also be health and safety equipment that is mandatory, all this needs to be available for them to wear on the day of the shoot, consider items such as safety glasses, tied back hair or safety gloves.
Health and Safety limitations.
Check with your work-place or HR department so you can have everything ready when you start your photography or when the photographer and their team arrives. Photographers coming into your building or laboratory environment may need to sign NDA or confidentiality agreements. The photographer and any members of their team may need entry passes, face masks or other safety equipment. They will need a list of personnel who have agreed to be photographed. Photographers may need a health and safety tour before they can start (allow time in our schedule if this is a consideration). The photographer will need to know what equipment or products they can or can't photograph. Planning ahead is going to save a lot of time if you can get all this in place before the day of the shoot.
Creating images with accurate, scientific representation, AND high visual impact.
Technology, scientific equipment, lab processing and chemicals can all have stunning visual impact when professionally photographed. These can look amazing on your website. Getting your team to configure equipment, getting everything ready before the photography starts will save time. Planning with your lab colleagues will make sure equipment and chemicals are safe and ready. You will need to guide and advise your photographer on any safety aspects, how close they can get, any heat or irritant possibilities, to enable the photographer to take dramatic and accurate image.
Different geographical locations.
You may have offices in one location and laboratories or research facilities in another location. It is possible to shoot at two locations in one day if everything is planned before you start. Take into consideration travel times between locations, parking and access, if timings are difficult, then you may need to plan for two different days for photography and book your photographer accordingly.
Sensitivity around revealing proprietary information
If you need to photograph products or processes that are proprietary ask your photographer to consider this. The photographer may be able to shoot at an angle that doesn't reveal sensitive data or process, or they could adjust focus to blur or fade anything you don't want to be shown.
"IP, project information or research or lab processes - Make sure white-boards, desks, project boards are not in view or need to be covered up during the photoshoot. Otherwise, it adds extra, unnecessary photo editing time at a later stage."

Angela Carrington, Managing Director,
The Bigger Picture Agency.
Things to consider for a laboratory photoshoot

One scenario might be that you have a bioprocessing facility that needs to be captured without revealing the technical details of the equipment. Another situation might be that a strong visual image is incongruous with a real protocol. It is a challenge of artistic licence that must be considered here. Make sure you consider laboratory:
Health and safety protocols
Space to move around, desktop spaces and access to equipment
Dangerous chemicals in use during the photoshoot
Clean and clear floor space and access
An important aspect to note, as recommended by Angela Carrington, MD at our go-to photography studio, The Bigger Picture Agency, is the use of high-powered flash. Will the use of a high-powered flash affect lab results or could the flash ignite a spark in a sensitive area? It's certainly worth checking into this level of detail, prior to the day of the shoot, with your health and safety team.
Things to consider for an office-based photoshoot

Having a range of images that showcase your office location is a great resource to have, no only for use on your life science website but for all of your life science marketing and communication activities. When planning to take photographs around your office location, here are a few tips to consider.
Lighting, reflections, signage and angles to shoot
Access to shared or communal spaces
Making sure you don't photograph people from other organisations in the building
Events or meetings that might be taking place that affects shared spaces
Cleaning in progress, or building work taking place, how easy will it be to keep these out of shot
Things to consider when photographing your life science team
The main area to consider is asking permission. Not everyone is comfortable being photographed. Ask your team who would like to be involved. If you are taking team shots for your management or community website pages, then consistency is key – lighting, position and format are useful considerations. Team profile images are often square or circular on your website, so take this format into account. Group team shots can look really impressive on your life science website, helping new talent to get a feeling for your organisation and helping investors get a sense of your energy and values.
Things to consider when photographing your life science products

You need to decide if products are to be photographed at your location (in situ) or at a photographers studio. A product shoot at your location is going to require space for your photographer's equipment, lighting and backdrops. If you are using a photographers studio, packing and transporting your products may need to be a consideration. Do you need written permission to take the product out of your labs, do you need to allow for transporting large objects or provision for transportation of chemicals or specialist equipment.
After the photographer has taken your range of product images, allow time for photo retouching. This process can be provided either by your photographer or your web agency, who will have access to Photoshop and the experience to cut-out images from their background, adjust lighting and fine-tune exposure.
What help do you need for a life science website photoshoot
Ask for help when you need it. If you can deliver the photography yourself, great. If not, seek help with:
Mood-boards or style-boards to set the scene for the photography required
Writing a shot-list – essential images needed to support your website content
List of formats– wide-angle, landscape, square, cut-out, etc.
Planning and coordinating the whole process, a project manager with location photoshoot experience can be highly valuable
Book your photographer, ask colleagues for recommendations, review the photographer's portfolio, assess their experience and team – our go-to professional photographers, The Bigger Picture Agency.
Images can enhance and help the narration on your website. Photography can be used to support your text and highlight content to your readers. This means if you have your written copy mapped out or even written by the time your photo-shoot date arrives you can make sure you take the images you need to support key parts of your content and its narrative.
Customised Stock Library images as an alternative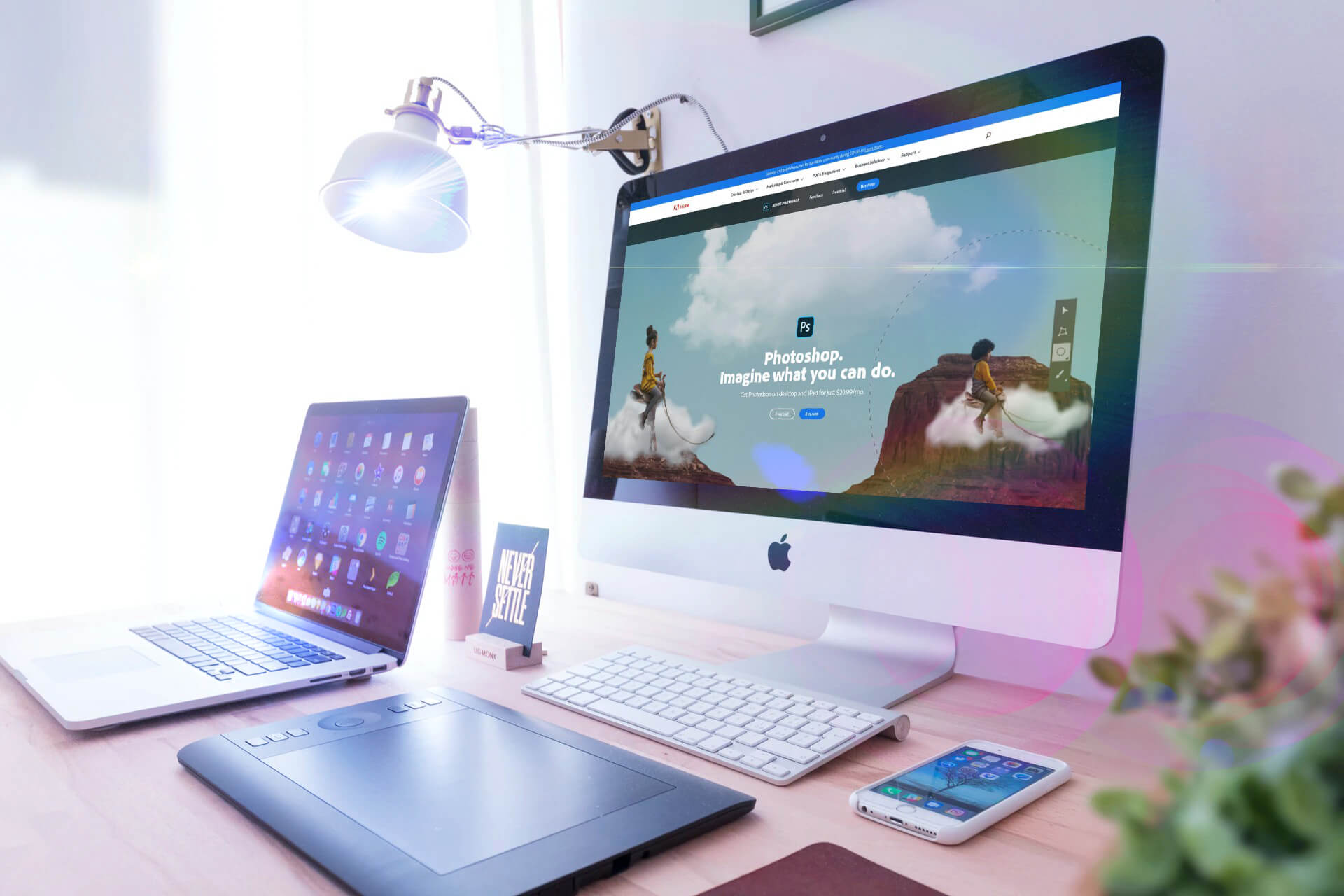 We work magic with Photoshop.
If you can't commission a photoshoot, then Stock images are still an option for your life science website. The risk is that you may have to compromise on the impact of what you specifically want to convey. Okay, stock images may not be not specific to your business, however, using stock images doesn't mean they can't be made unique for you.
Here in the Arttia Creative studio, we have over 20 years of experience working in Photoshop. Which means we can work our magic to blend, edit, retouch, recolour and enhance high-quality stock images, so they create the stand-out you need on your website.
Committing to a photoshoot to support your online activities can produce the impact that makes you stand out from established competitors. Especially those that are large and non-personal in what they can present to the world.
Setting up a photoshoot early on in the website design and development process places you at an advantage, to present the best of you and your company. Your photography can inform and influence the overall look and feel of the website you need to create.
There are many unique challenges when delivering a photoshoot at a specialised lab facility. There are ways to address these with a clear brief and also by involving the right people to set up and manage the right images for your life science website project.
We have experienced people here at Arttia Creative who can guide you through the process of delivering a photoshoot at your location, at the right time, in the right way, to support a strong story and company values.
As an extra note, it is worth considering putting captions or legends with any images you use that are unique to you. Captions help show the context of the image and what aspect of your business it gives insight into.
At Arttia Creative we consider all aspects of your website project from the start. We don't just build websites, we create unique experiences for your audiences and use photography, imagery, copy and world-leading creative design to deliver the impact you need.
If you are looking for a life science website consultancy that can help you with every aspect of your website or digital marketing project, then Let's talk >>
Belinda White | Creative Director
Images: Adobe Stock, Arttia Creative, Unsplash
FREE 50-Page Guide. Transform Your Biotech or Life Science Website. Build brand, reach further, drive investment.
The Life Science marketers definitive guide.