Why Branding is Essential for your Life Science Company
Whether your business is in the biotechnology, healthcare or pharmaceuticals industry – or a more specific division of the life sciences field, it's essential that your company brand is both visible and compelling.
With a strong brand, a fresh new approach from a small and agile life science company can have a significant impact on the marketplace.
"A brand is an abstract idea that incorporates various aspects of a product, including its logo, font, name, colours, packaging shape, size and messaging. At Arttia Creative we approach your brand as a holistic asset – it's not just your logo or an icon."
Why branding matters in the life sciences sphere
In the competitive and fast-moving commercial space of the life sciences sector, a memorable brand will work hard to attract the attention of clinicians and healthcare influencers both off and online – making it a compelling and relevant part of your business.
A strong brand will set you apart from the competition, attract and engage new customers – and provide higher value to your investors. It provides you with the opportunity to register your IP and create an experience that differentiates your product within the marketplace. This can be important when considering how to protect innovative ideas – whether it's a brand name or invention – as putting the relevant patents, copyright, registered designs and trademarks can save a lot of time and money.
Branding also forms a solid foundation from which you can launch and licence new products and software, individually or as a part of a brand family. This, in turn, can help you extend your reach into new markets, grow your business and establish greater brand awareness. Product launch branding can create a significant impact when the right timing is essential for maximum launch awareness and resulting sales.
How to tell if your brand is working
Effective branding in the healthcare industry serves to promote your company and your products. If a particular product, or range, is not finding commercial success or has gained a bad reputation, it could be that it's the branding, rather than the product itself that isn't working. This indicates that work may be necessary to realign your branding, revitalising it to meet your audience's needs.
Do you want more traffic?
We are dedicated to increasing leads from your Life Science or Biotech website. We specialise in understanding your unique online needs and have the experience to help your business grown online.
Delivered via video meeting or phone, you choose. Fast track solutions to your digital marketing projects.
What role does branding play in your commercial success?
Branding science affects every touchpoint where your audience interacts with your business. It includes your business brand development as well as product brand development – and any required repositioning.
Branding in healthcare can position you as an innovator, a thought leader, or on the cutting-edge of science and discovery.
Your brand creates an emotional experience with your audience, providing visibility that resonates with your audience and nurtures customer loyalty and trust.
FREE 50-Page Guide. Transform Your Biotech or Life Science Website. Build brand, reach further, drive investment.
The Life Science marketers definitive guide.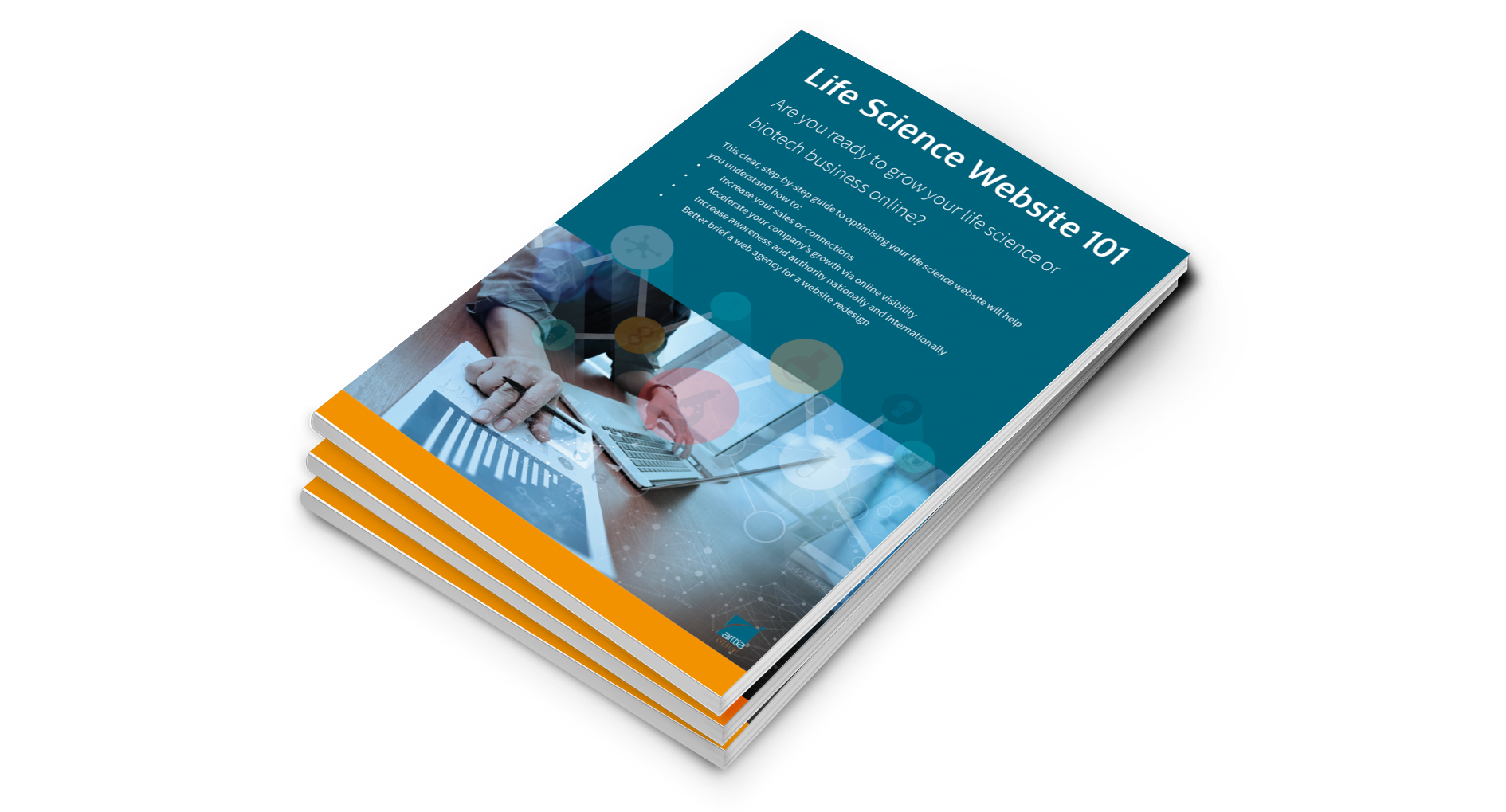 The psychology of branding
As human beings, we connect with innovations in biotechnology, life science and healthcare on an intense level, because of our universal interest and investment in medical progress and scientific discovery. Our health and that of those around us is a highly emotive subject that can trigger emotions, sensations and a baseline understanding of our universal humanity.
With this in mind, it's worth noting that because life science and healthcare companies have the power to change lives, it's possible to make an empathetic connection with your audience with a clear and straightforward narrative around your brand and your values.
When developing a brand personality for your business or product, whether it's a healthcare app, new diagnostic software, or a healthcare device or product – the psychology of human emotion can drive the building of a brand, which appeals to your audience's feelings.

Arttia Creative – your healthcare website consultants
Arttia Creative understands the complexities of the healthcare market and specialises in helping highly-niche companies in the life sciences sector to promote their business and products. Arttia Creative helps you to create and carve a niche position in the marketplace and to get seen and heard by your customers, both on and offline.
We understand that competing with the big players who dominate this marketplace can require creative thinking. We also know that consumers are increasingly well informed, and take the time to research the wealth of products that are available to them.
The power of your brand's story is to engage with your customers and help them to understand what sets you apart and makes you different to the competition.
We create compelling and distinctive brands for clients across the scientific and healthcare sectors. Brands that help biotechnology, healthcare and pharmaceutical companies to stand out and leverage the power to take ground from the dominant players – brands that represent both a company's ethics and its aspirations.
Work with us, and we'll create a brand mark that and colour palette that reflects your positioning, then we'll embed them in your business identity system and develop a brand standards guide, setting the rules to ensure visual integrity.

Ready to develop your life sciences brand and build a loyal following?
Brand equity is a tangible asset for any life science business. A strong brand identity for your business and products can have a measurable effect on your share price. Brand perception determines customer behaviour – how they buy and the value they place upon your products.
Over time, your brand has the potential to become a substantial and valuable asset, useful when either seeking investment or to sell your business.

Working with Arttia Creative
We'll work closely with you to explore and research your marketplace, so together we can create a brand strategy that will ensure consistency across all your activity, both on and offline. And we'll use conversion copywriting to tell your story and engage with your customers across all your communications. This consistency will cover your entire organisation as well as the products and services you develop.
The Arttia Creative team's core skills include graphic, illustration and logo design and we've developed a sophisticated and collaborative approach that results in the development of distinctive, engaging and successful brands which appeal to broad and diverse audiences.
Are you ready to showcase what makes your innovation stand out?
Do you want to discover what tone and style will complement your ideas and position you correctly in your desired marketplace?
Talk to us to find out what branding can do for your business, why it isn't only for direct to consumer products and how it drives buying for b2b companies across the life science, healthcare and biotechnology spheres.
Dominate your marketplace with a compelling brand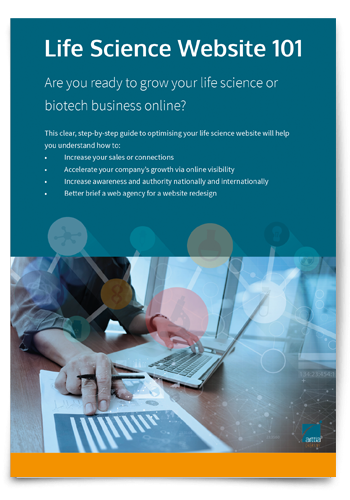 FREE 50-Page Guide. How To Take Your Biotech or Life Science Website To The Next Level.
Let me show you how to take your Biotech or Life Sciences website to the next level. Driving business growth.
Download our FREE 50-page in-depth eGuide which shows you how to increase quality leads from your website and create outstanding digital marketing for your Life Sciences or Biotech business.
"An exceptional resource on how to represent your life science business online. It stands out as a practical guide on how to use your website as part of a marketing mix specifically to engage with life science customers."
Life Science Business Consultant