How to Build an eCommerce Website that Drives Sales and Boosts Profits
Thinking of developing an eCommerce website and online store?
You have a unique product or idea, and you know there is demand out there.
Imagine if you could combine the shopping opportunities offered by Bond Street in London, Fifth Avenue in New York, Rodeo Drive in Beverly Hills and Ginza in Tokyo.
Picture the possibilities.
The crowds of potential customers.
The buzz as a new product comes to market.
The fervour as the seasonal sales begin.
Queues around the block.
People camping out through the night waiting for that moment when the security guards appear and open the doors to your shop.
Imagine all that.
At the touch of a button.
Welcome to the world of eCommerce.
With no restriction on opening hours. No barrier to sales. The world is your online oyster.
Or is it?
The Wonderful World of eCommerce
It's a frustrating fact but the world of eCommerce today can be as fraught with challenges as that of the traditional bricks and mortar shop. Did you know that roughly 90% of all eCommerce stores newly created never sell a single product? Yes, zero products. You need to understand this and create an effective plan.
How will your customers find you?
How can you build a name and a good reputation?
Which eCommerce platform should you choose?
How are you going to grow your online customer base?
How are you going to make it work?
Happily, there are things you can do to make sure that you succeed in your chosen online eCommerce space and we are here to help you.
[bctt tweet="How to build an eCommerce website that drives sales and boosts profits. Read here." username="arttia"]
Looking for e-commerce website design tips, here's some food for thought:
1. Your online platform - Your "shop."
The right online eCommerce platform for you depends on some factors, including your predicted sales volume, your budget and, of course, the experience you want to create for your customers.
Are you going to set up the online version of a boutique store, selling a select number of niche brands?
Will you offer specialised product knowledge and add value to your customers with extensive blog posts and relevant content? You know, like that little independent shop on the high street where the staff can answer even the most obscure question?
Or are you more of a department store, covering two or three 'floors' of products with a more general and wide appeal?
We specialise in WooCommerce on WordPress. Plus helping clients with their Shopify set up, both highly regarded eCommerce platforms on which to build online stores:
WooCommerce (A self-hosted solution)
Shopify (A hosted solution)
We specialise in these two platforms. There are much more available if you decide on another route.
2. Your site design - Your "shop front."
Just like a shop front on a High Street, the design you choose for your eCommerce site is a key part of attracting your online audience.
Think about these points:
Are you going to have a bold banner across the header of your site?
Will you have a brand logo on display?
What about the colours you choose to represent your business? Do they truly reflect what you offer?
Are your chosen colours easy to recognise?
Do they work for you to build your brand?
3. Your sitemap - Your "floorplan."
What about the white space on the site? Are you giving your products space to 'breathe' and your customers enough space to choose? We all know the frustration of being unable to move around in a shop that's jam-packed with products but no space to look at what you're buying.
4. Your logo – Your shop "signage."
Your shop logo can go a long way to making your customer's experience on your site simple and easy. Your logo says a lot about who you are as a business, are you reliable and trustworthy?
Think about your tagline and your call to action. Can you use persuasive language to change your customers' behaviour? Can you convert them from passers-by who glance in at your shop window then move on to customers who walk through the door, choose what they want and pay for it at the till?
A serif font can be hard to read quickly, and your online customer wants to be able to buy without trying to decipher what the product description says.
5. Your imagery and photography - Your "shop displays" and "sale rail."
Bricks and mortar stores will use in-store displays to show off their merchandise and attract customers.
Think about the carefully styled mannequins used by clothes shops. The hanging ceiling displays in supermarkets. The wicker baskets, lined with red gingham and straw that decorate the counters of delicatessens to give produce that rustic, homegrown feel.
Displays add texture and dimension to products that are on sale, bringing them to the forefront of the shopper's attention. So, how can you replicate this effect online?
The simplest way is with engaging original photography and videos.
If you can, avoid the use of stock imagery – it doesn't help you stand out from the competition, especially if you conduct some basic competitor analysis and find out that your main rival is using the same images as you.
Consider the size of the images you use – pixelated pictures can look cheap, while too large a file size risks slowing the loading time of your site.
6. Your customer service – Your "check out."
We've all been there. Standing waiting at the till while the checkout staff discusses last night's events. Or what they had for lunch.
Perhaps you've spent half an hour shopping, only to discover that the store doesn't take debit cards. Or that the size item you want is out of stock.
The online equivalent to this real-life frustration is a complicated website and an unclear check out page. A page where there isn't an obvious flow of actions to take, to be able to buy what you want and then leave the site.
The best way to prevent frustration and risk shoppers leaving your site is to:
Give a warm welcome – the words you choose to write on your site have a 'tone of voice'. This can be warm and friendly, or it can be staid and off-putting.
Take care to use words that welcome people to your store.
Use clear and simple language – say 'buy' not 'purchase', 'send' not 'dispatch.'
Be helpful – have a Frequently Asked Questions page, sizing guides and clear returns policies
Make sure your site is easy to navigate – like a department store where the lifts, the entrances and exits and cash tills are clearly marked, think about what elements fit best where.
Make it easy to pay, remove barriers – there are lots of ways in which people can pay for goods online. Tools like PayPal instil confidence, shonky credit card forms don't.
Make contact – Email follow-ups, requests for feedback, newsletters, useful blog posts and autoresponders are all excellent marketing tools to keep customers in your sales pipeline and are simple to set up.
7. More than a 'build it, and they will come' ethos...
You need to let potential customers know that you exist. With millions of websites out there and thousands of online stores from which to choose, how will you get noticed?
That is where Search Engine Optimisation (SEO) and online marketing come into play. These are critical to the driving traffic and therefore sales. We can create a custom online strategy for your store which promotes your uniqueness, tells your story and helps you stand out.
---
Search Engine Optimisation is a Fundamental Component of Your eCommerce Website. Get found. Sell more.
After all, what's the point in having a beautiful online store and amazing products if the right people can't find it?
Useful eCommerce Resources
At Arttia Creative we understand the complications, the challenges – and the joys of eCommerce. We'll help you choose the right online platform for your eCommerce store, together with the experience and knowledge to promote and drive sales online.
eCommerce Design Inspiration - Let's get started


FREE 50-Page Guide. Transform Your Biotech or Life Science Website. Build brand, reach further, drive investment.
The Life Science marketers definitive guide.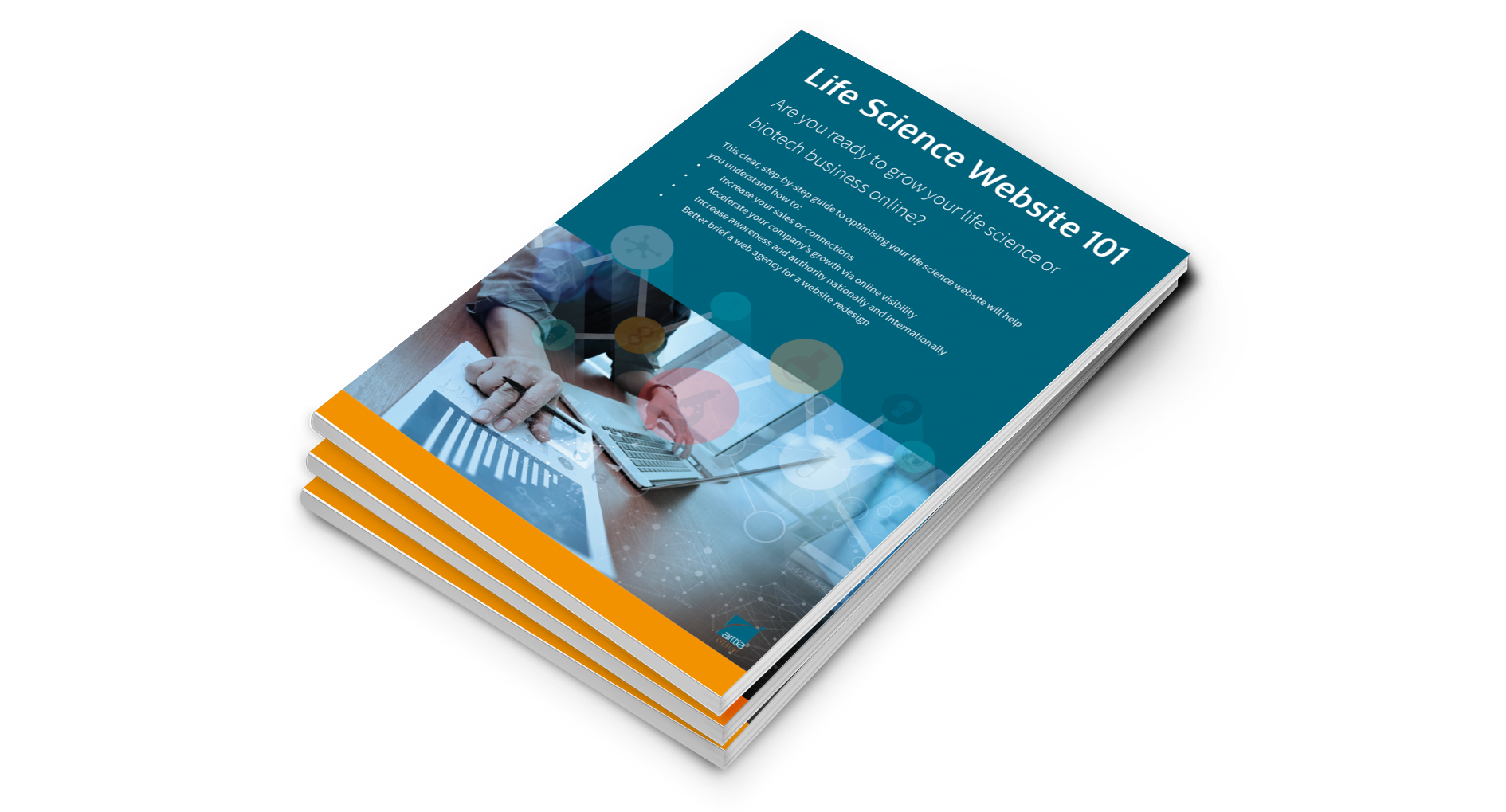 View our eCommerce offering and find out more about our WooCommerce and store promotions services.
Create an effective online store today.