How to use Twitter for Life Science Brand Building and Outreach
Some people in digital marketing and social media say Twitter is dying but it is still the world's #1 go-to platform for breaking news, live events, online networking, customer service, conversations, accessing hard to reach people, building relationships, and so much more.
Gone are the days when marketers can bulk-automate link-filled spammy tweets. Twitter has evolved and so have its users.
The Twitter post, or Tweet, has become the best way to share news in real time. It is a powerful communications channel with over 340 million active users. It supports 33 languages and as we saw with the Arab Spring and popular movements since, it is the place where we go for breaking news, views and images.
It was always intended to be a mobile-friendly micro-blogging platform from its launch in 2007 and even today, 80% of content is written and published from a mobile device. Tweets can contain links, hashtags, photos, video-snippets and mentions to help you seed conversation. You can even conduct polls via Tweet - an interesting new way to gauge views on your chosen subject.
Twitter - 180 characters that can change the world.
Although it has a slightly younger demographic, it is a predominantly B2B platform (85%) and is an excellent channel for you to communicate with others in life sciences, biotech and healthcare. It is as high-brow or as low-brow as you choose to make it: it depends on the accounts you follow and the conversations you join in with. If you prefer to keep it professional, you won't even see the more low-brow debates taking place elsewhere on the channel and for this reason, it is in fact a safe place to build your network.
Twitter was the first social media platform to be embraced and encouraged by the NHS and now many roles, specialisms and interests are to be found here.
All of pharmaceuticals, medtech and medical devices industries are on Twitter. Most academic and commercial research teams and individuals are on Twitter. All health, scientific and research bodies and on Twitter and specialist publications too. Grants and funding bodies use Twitter to issues calls for research funding applications; and investors use it to monitor trends and market developments, as well as spotting emerging talent.
Increasingly, conferences, events and trade fairs will have a hashtag and in the past year when we have been networking remotely, Twitter is running alongside webinars and online conferences, showcasing the speakers, topics and programmes; sharing key insights and quotes; fostering debate and community. A quick look at the NIHR in the UK, or FDA in the US will contain a mixture of posts concerning recent podcasts, interviews, breakthroughs and public health updates with comments, likes and shares aplenty.
You see, you can be as active or as passive as you choose on Twitter whilst you are getting comfortable with using it.
What type of profile do you want to develop?
It is essential to have an appealing profile and let people know, with hashtags and keywords, the benefit of following your profile. Do you intend to:
help them to understand a topic and deepen their knowledge

help them to keep up with research developments

help them to keep up with industry trends

help them to find updates about your organisation quickly and easily

share your expert, personal views with them on key topics of interest
A quick search on Twitter will help you to see how others in life sciences and biotechnology position their brand or themselves and attract a following.
New Scientist on Twitter: the best place to find out what's new in science - and why it matters. https://twitter.com/newscientist
AstraZeneca on Twitter: We're drive-by innovative science to deliver life-changing medicines to millions of people worldwide. https://twitter.com/AstraZeneca
Personal profile - on Twitter: Cassini imaging lead. https://twitter.com/carolynporco
Arttia Creative on Twitter: World Leaders in Digital Strategy & SEO. Websites for Biotech, Life Science, Energy, Pharma. https://twitter.com/arttia
It largely depends on how ready your life science organisation is to use Twitter whether you choose to set up a personal profile, group/division or company profile.
Twitter itself will suggest accounts to follow and you can slowly build your network from there.
You will need an appealing 'cover image' and a thumbnail, a little bit of 'biog' that tells visitors about you, your team or the organisation you will be posting about. Don't forget to let them know who is Tweeting on behalf of the organisation, all helping to humanise your brand and build connection with your target audiences.
Arttia Creative has helped many clients to develop their life science brand and following on Twitter over the years.
Or follow us on Twitter - https://twitter.com/arttia
Belinda White | Creative Director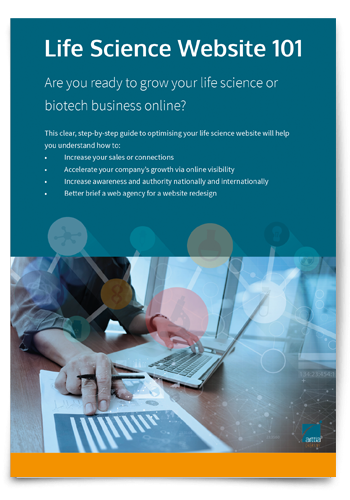 FREE 50-Page Guide. How To Take Your Biotech or Life Science Website To The Next Level.
Let me show you how to take your Biotech or Life Sciences website to the next level. Driving business growth.
Download our FREE 50-page in-depth eGuide which shows you how to increase quality leads from your website and create outstanding digital marketing for your Life Sciences or Biotech business.
"An exceptional resource on how to represent your life science business online. It stands out as a practical guide on how to use your website as part of a marketing mix specifically to engage with life science customers."
Life Science Business Consultant