Why WordPress is our Content Management System of choice
WordPress as a website Content Management System
You've most likely heard of WordPress. It's popular. It's very popular. It powers almost 25% of the worlds websites. That's a lot of websites, a lot of businesses using and relying on WordPress for their online presence. So what's the reason for this?
Why do so many businesses choose WordPress when creating their website?
What are their deciding factors?
Read on to find out why WordPress is our go-to Content Management System for business websites.
"WordPress powers almost 25% of the worlds websites."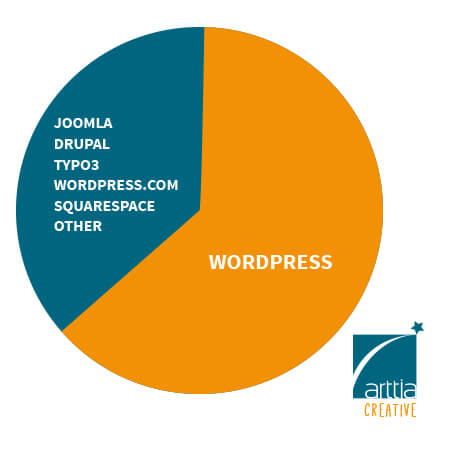 Let's talk website content
Most websites created for business have the need for a Content Management System (CMS). A way of updating their website content without having to know how to code, and at their convenience, for small changes or new blog posts, and without the need to involve their website or marketing partners.
With Google preferring sites that are up-to-date and visitors looking for fresh and relevant content, it is increasingly critical for businesses to keep their website fresh, current and alive. A website packed with useful, relevant business driving content and features for their visitors.
There are many ways to develop a website with a CMS:
Custom built CMS, for unique business requirements, custom coded by a team of web developers
Purchase a pre-built CMS that closely fits your needs and that your web team can add to via an API
Use an Open Source CMS (such as WordPress)

Open Source, a robust solution
If you have a custom CMS built the IP very often remains with the developer. If you buy into a pre-built system you may need to continue to purchase updates and ensure your developers keep on board with that system.
The WordPress core code is open source. Open source is defined as software for which the original source code is made freely available and may be redistributed and modified. This gives our clients an up-to-date, well coded solution, with access to a large developer community, without us having to reinvent the wheel.
Here are some of our deciding factors:
Open source community driven software is regularly maintained
Highly tested code that works
Proven track record
Access to a wide community with a wide range of skills
[bctt tweet="Find out why WordPress is our preferred Content Management System for our clients websites." username="arttia"]
The benefits of WordPress for our clients
For most of our website development projects, we select the WordPress platform on which to build and our clients love it.
Easy to use
I know it's all relative, we've tried and tested many systems. And out of all of the CMS systems we've used over the years, the WordPress dashboard has consistently been the easiest for clients to get on board with. The interface is intuitive; our clients spend less time learning and more time adding new content and driving business.
Manage anywhere
Being a browser-based solution means our clients can login to their website from any internet-connected location and add content and keep their site up-to-date.
SEO friendly
Search engines love the WordPress code; it's known to be cleanly coded and search friendly out-of-the-box. For your business to feature high on Search Results pages, you have a head start, especially when making the right use of plugins such as Yoast and All in One SEO to enhance your focus and listing.
"WordPress is SEO friendly 'out-of-the-box'."
Flexible and adaptable
Adding functionality and new features to a custom web build are entirely possible, with the right amount of time and a reasonable budget. With a WordPress website adding custom features becomes faster and more cost effective for your business. There are hundreds of pre-designed plugins and extensions where the heavy lifting has already been completed and tested. Many have extendable features and API's so we can customise them to your specific business needs.
Built in blog
WordPress was created as a blogging platform, so it's blogging capabilities are outstanding. A built-in blog makes it easy for our clients to add beautiful, in-depth blog posts quickly and regularly, helping them to promote their expertise online and drive traffic.
Grows as your business grows
WordPress is scalable. You can have hundreds of pages and posts without performance issues, giving our clients the room to flex and grow their online presence.
Secure
WordPress is secure; this is one of the reasons for its popularity. All websites get attacked and are vulnerable to security breaches. Malware or DDOS attacks are common on the internet. We recommend robust security plugins and regular software updates to our clients with WordPress websites keeping them safe and secure. And that's why we offer our exclusive Monthly Care Plans, so they have continued peace of mind. They know their site is safe and secure and working to it's optimum at all times.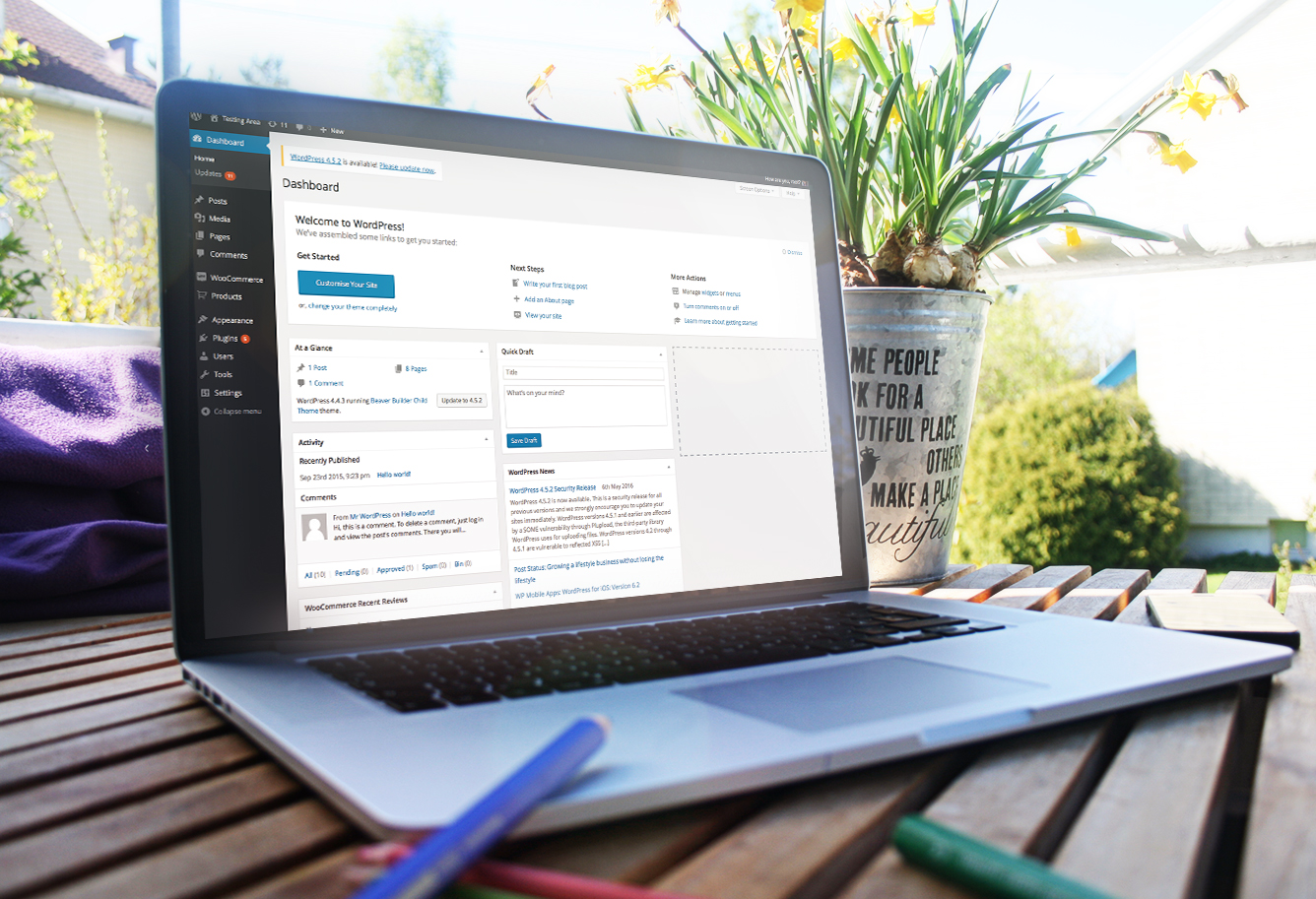 A powerful marketing tool
Websites need to work hard to create leads and drive revenue. Creative and well-designed strategic marketing positioned around your site is critical to gathering and nurturing new leads and enquiries. WordPress is perfect for this, it's probably the most powerful marketing and sales funnel building platform around today. It's trusted by many profitable and respected business. And WordPress benefits from easy integration with lots of third party marketing software, with many software companies creating WordPress specific marketing tools that are beautifully easy to use.
FREE 50-Page Guide. Transform Your Biotech or Life Science Website. Build brand, reach further, drive investment.
The Life Science marketers definitive guide.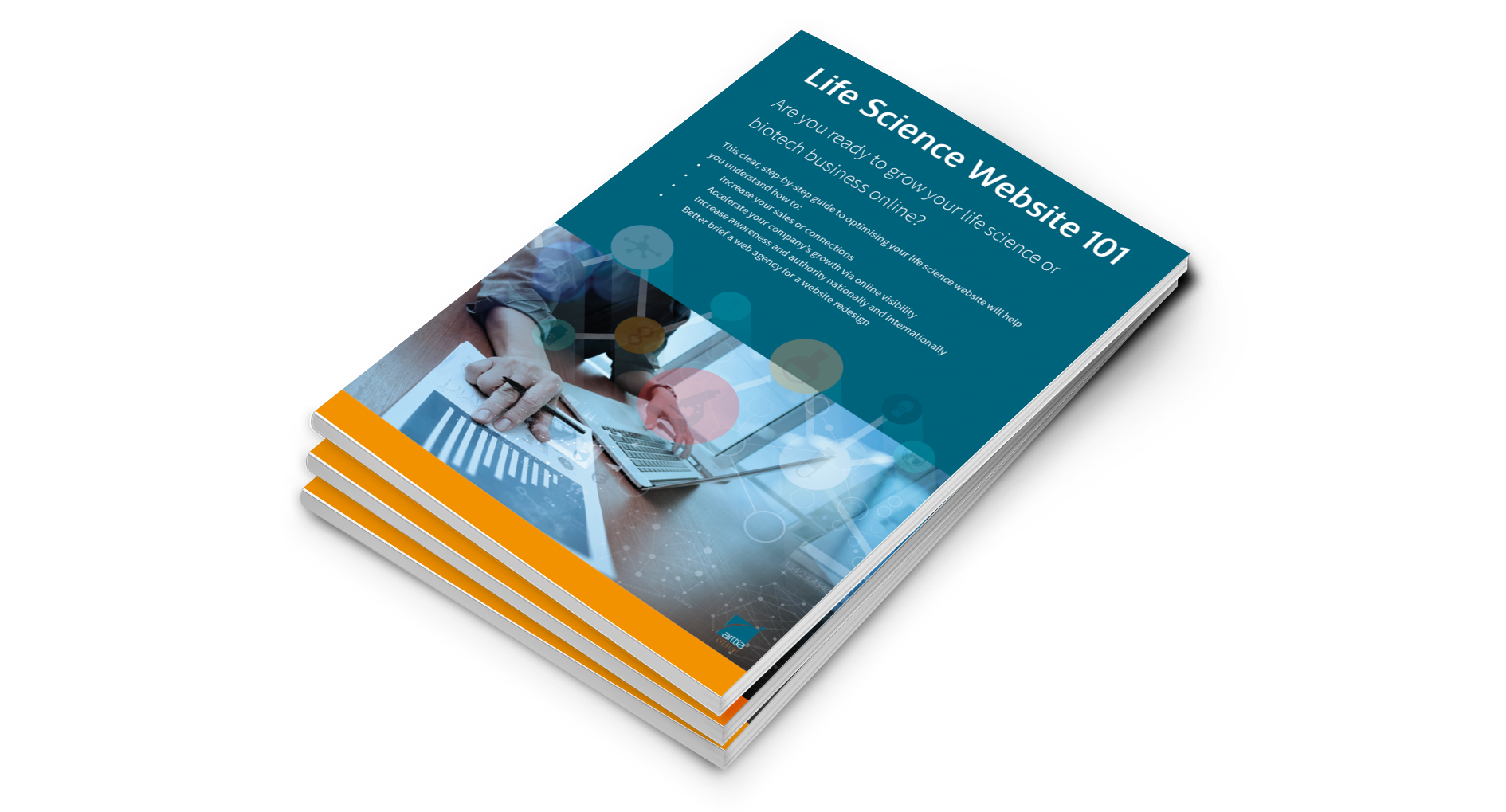 Used by well-known organisations and brands
WordPress is a trusted platform for many big brands; here are a few current notable names who use WordPress...
• The New Yorker
• BBC America
• The Official Star Wars Blog
• Variety
• MTV News
• PlayStation Blog
• Fortune
• Facebook Newsroom
• Marks and Spencer for Business
WordPress for online stores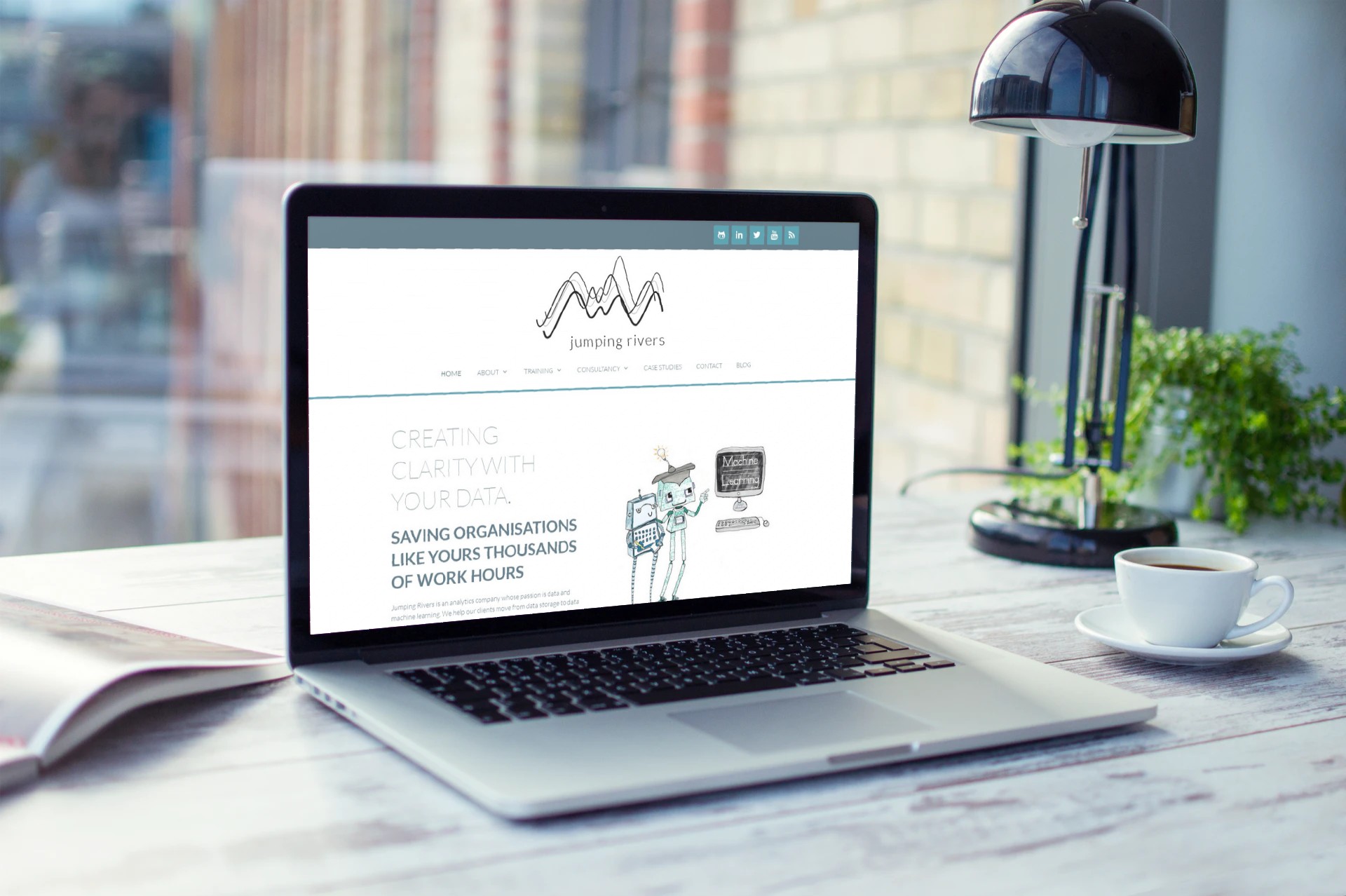 Currently, 30% of all online stores are built with WooCommerce, the go-to eCommerce plugin for WordPress. It comes ready loaded with features for your online store management. At the time of writing WooCommerce has around 362 official extensions that add extra functionality. And because its foundation is WordPress, it's perfect for SEO, an essential element for all online stores. Because if you can't be found, you can't sell.
Need a new online store?
Look no further, contact us to discuss your eCommerce project.
We care about every website we create, so we provide exclusive specialist support as standard
At Arttia Creative we care about every website we create and every business we work with. We know our clients websites are a business critical asset. Which need to be constantly fresh and dynamic to drive business growth.
That's why we offer, exclusively to our clients, our comprehensive Website Care Plans. They include consistent consultancy support, providing clients with a skilled digital partner, helping them to get the most from their online activity.


When thinking about your next website rebuild or refresh WordPress should be top of your list. The time invested in creating your website using WordPress CMS will benefit you massively in the long term. It gives you great search presence and a well coded, secure website, plus adding new content and features will be cost effective and efficient.