How to Simplify Your Life Science Cluster Website
Have you been tasked with refreshing a large, complex, or cumbersome website?
Do you need external support to assess your digital presence and life science website, as it exists now?
And would you like help to simplify your user's journey, optimise your customer's experience – and benefit from the resulting ROI?
The Life Sciences and science sectors are a place of constant innovation, product creation and change. This rate of development results in a number of challenges for any marketer or marketing team tasked with maintaining a large and complex life science website. As well as clearly communicating your offering to your visitors.

Common challenges in Life Science and Cluster Website Marketing
Keeping up with the rate at which your parent company acquires smaller companies
The capacity to clearly represent multiple smaller life science companies within one website
The ability to balance the presence of a range of different content providers on one site
The scale and scope of these challenges can be such that they feel overwhelming. Especially when there are multiple stakeholders to please and multiple content providers to represent.
When website management becomes overwhelming
The extent of this complicated scale and scope on your website can result in it feeling difficult to manage and maintain your required highly technical niche marketing efforts to the necessary standard.
Especially when new businesses, partners and acquaintances join your organisation and demand a fast presence on your website – but it's not clear how or where they should feature for everyone's benefit and on the Users Journey.
It can be tempting at this point to admit defeat and postpone any efforts to streamline your Life Science website. The challenge can feel overwhelming, especially if your organisation moves so quickly that it's hard to slow down, take stock and assess what website and content options will work best and result in the best experience for your website visitors.

What do your customers need from Life Science and Cluster websites?
As the digital space becomes more sophisticated and the need for a responsive experience rises, so the demands of your online customers increase. You need to be mindful that the people visiting your website may be looking at your site on a large desktop screen in a quiet office, or they may be scrolling on their phone on a packed commuter train.
Either way, your website has to present what you do, how and why you do it in a way that's easy to understand and intuitive to act upon. You may provide layers of in-depth and highly technical information, but it must be easy to find, and it must be clear and engaging when on the screen.
View our Website Project Case Studies

The first steps to tackling information overwhelm
One of the simplest ways to solve this feeling of overwhelm is to ensure that all planning for the simplification of your website is done in well in advance of your deadline – and in sufficient detail. The simplest, yet most intelligent and sophisticated websites in any sector are based upon highly detailed project briefs.
Next, it is important to bypass thoughts about what your site will look like, how you will use design and photography and typography to bring it to life and, instead, concentrate on the strategy, scope and structure that means it will drive business to your organisation.
Finally, and this is especially true if you are working to satisfy the needs of multiple stakeholders, you need to consider the role that automation can play in creating a site that supports equal representation for all the companies involved.

With over 30 years' experience in design and the digital marketplace, we're Life Science and Science focused website consultants who understand the challenges you face. Especially when it comes to developing a website that works hard as a commercial tool for your business and that provides a solid return on investment.
We know that when it comes to highly technical niche marketing, a well developed and well designed website will have a positive impact on your marketing efforts.
The Arttia Creative team is here to help you with complex or large websites that need to please many stakeholders. We also provide on going support for time-poor marketing departments.
Are you ready to take the pressure off your marketing department and guide your visitors?
Ready to gather effective analtyics?
Want to be found in search and demonstrate to your financial director and associates that your website is makeing a positive impact on your Science company's bottom line?
We are a World Leading Website Consultancy to Biotech and Life Science Businesses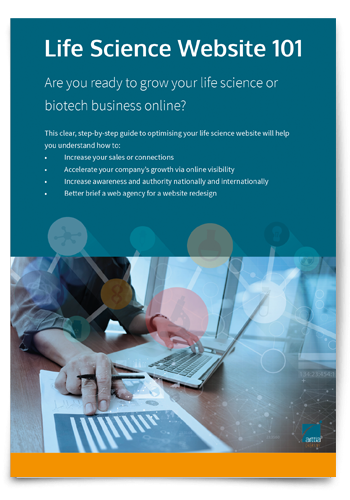 FREE 50-Page Guide. How To Take Your Biotech or Life Science Website To The Next Level.
Let me show you how to take your Biotech or Life Sciences website to the next level. Driving business growth.
Download our FREE 50-page in-depth eGuide which shows you how to increase quality leads from your website and create outstanding digital marketing for your Life Sciences or Biotech business.
"An exceptional resource on how to represent your life science business online. It stands out as a practical guide on how to use your website as part of a marketing mix specifically to engage with life science customers."
Life Science Business Consultant
Your Website Consultants To Life Science, Biotech and Science Sectors