Googles Algorithm Updates. What Do They Mean To Your Business?
The world of Search Engine Optimisation and Content Marketing is constantly evolving and changing. Google is the dominant force in search so it's useful for your business to understand how Google search has evolved over recent years.
At Arttia Creative our clients ask us how the impact of regular changes with Google affects their search rankings. What they should be considering when developing their website strategy and their content to best promote their products and services online. So here's my take how Googles algorithm updates can impact on your businesses and how you promote yourselves on line.
---
Google is always improving and progressing to stay number 1 in search. It updates its software continuously, however every now and again there is a major update. As a search engine Google wants to deliver the very best results so it is constantly improving and changing its search algorithm. Typically,these major updates impact how your business needs approach your search and content strategy.
Here's my take on Google's updates over recent years and how they affect your business online, what it means for the content you create and how you develop your website presence.
TAKE NOTE
The world of Google and Search Engine Optimisation is ever changing and fast moving. This post and my current thoughts are relevant at date of posting. The future is difficult to predict when it comes to SEO.
FREE 50-Page Guide. Transform Your Biotech or Life Science Website. Build brand, reach further, drive investment.
The Life Science marketers definitive guide.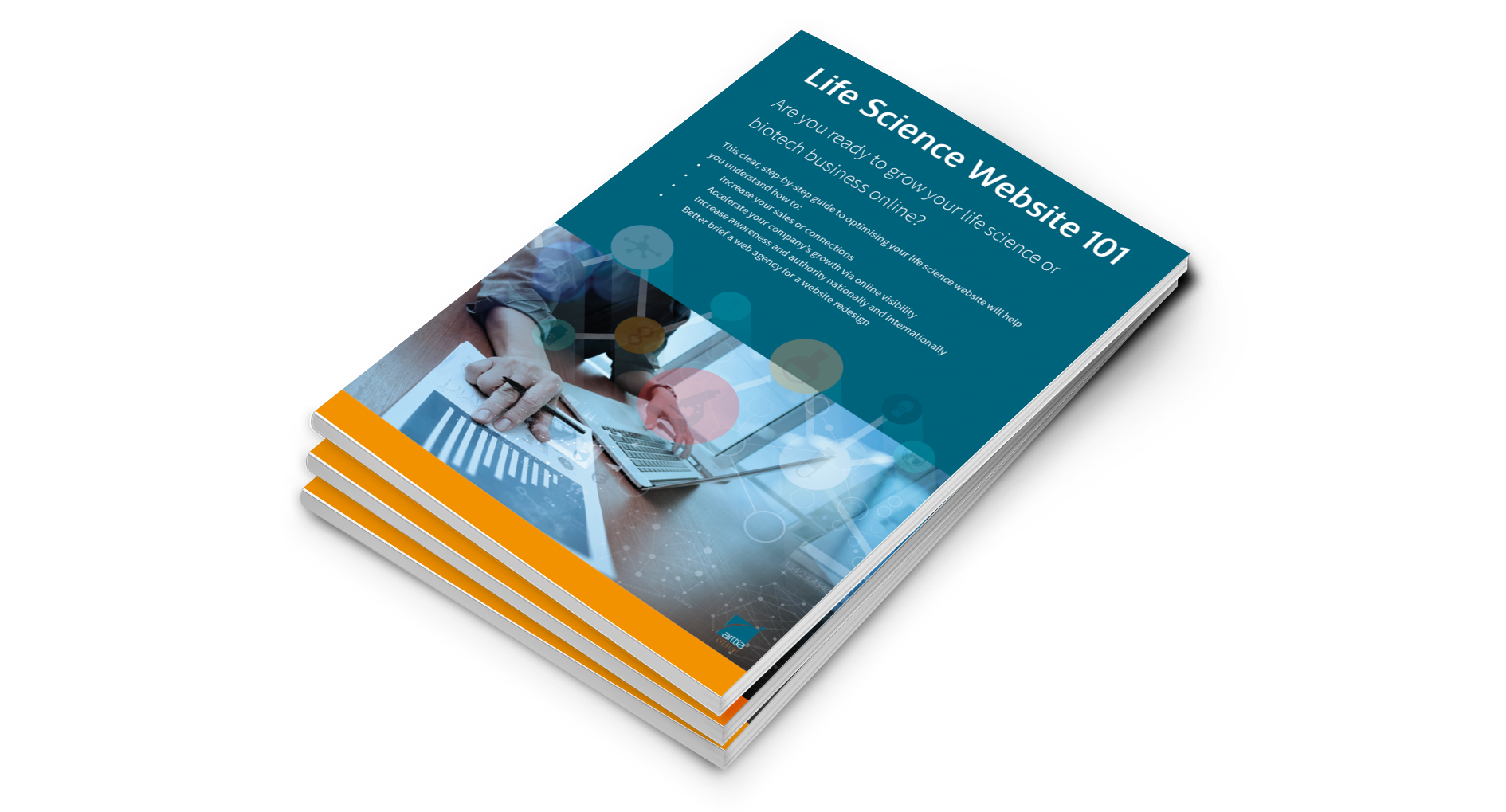 Googles algorithm updates, in release date ascending order
What is it?
The number of searches via mobile devices is ever increasing - people are predominantly searching via their tablets or smartphones. Google wants to give mobile searchers the best experience possible. In 2015 it introduced an update to assess if a website was 'mobile friendly'. Google is more likely to rank 'mobile friendly' sites higher than non-mobile friendly websites on mobile search results, pushing non-mobile friendly sites down mobile search rankings.
What does it mean to your business?
Being 'mobile friendly' means having a 'responsive' website
(able to reflow its content to the size of the screen being used preventing the need to pinch and zoom), or a mobile version of your website that loads instead of a desktop version. When re-developing your website, it needs to be 'responsive ' (fluid grid layouts, using media queries). See Wiki.
How can we help you?
At Arttia Creative we create 'responsive' websites and include Search Engine Optimisation so that you can be found by Google right from day one.
What is it?
Local search is increasingly important to businesses and getting found by customers in your location can give you the edge over competitors. Google made algorithm updates to help present relevant local and location based search results when searchers are logged in.
What does it mean to your business?
There are a high number of location focused searches. People can search for solutions in their closest geographical location, so local search is important for businesses who are location specific and targeting location specific customers. It's important to get a presence on Google Business so you can claim your local listing, to optimise your content for location specific phrases and to present any relevant 'local knowledge' that would set your business apart to searchers.
Check out Moz Local.
How we can help you?
We can work with you to check and refine your local search listings. We include 'Competitor Discovery' Reviews and create new content that targets your local searches.
What is it?
This update aimed to better understand search queries and their context. Rather than exactly matching the query Google wanted to better understand the users 'intent'.
What does it mean to your business?
Providing answers to your customer's questions and including a range of keyword phrases instead of only aiming for an exact match search result. Research around topics and phrases as well as specific high performing keywords.
How can we help you?
We provide in-depth keyword research that includes topics as well as a wide range of keywords that are competitive and long-tail. Creating you topic-based content that can target a range of phrases and your searchers intent. So your business gets found before your competitors.
What is it?
Google introduced this algorithm update to fight against keyword stuffing, duplicate content and buying links to manipulate a website's visibility. A major update from Google to fight against spammy websites.
What does it mean to your business?
Your website may still be using old SEO techniques like 'meta keywords' or a keyword density that is too high. It's useful to run SEO audits on your content on a regular basis to test for duplicate content and high priority issues.
How can we help you?
Here at Arttia Creative, we can run a website and SEO audit to check for any duplicate content flags and any technical issues that can prevent Google from fully crawling all of your website and content. Request your website SEO Review. So you know for sure your website is visible and driving sales.
What is it?
An algorithm update that focused on content. It was designed to crack down on thin or poor quality, duplicated content. Content that was perhaps old, not very long, not very well written or clearly copied was pushed down the rankings. It targeted so-called content farms or websites with a high advert/content ratio as it felt these delivered low value to searchers.
What does it mean to your business?
Google loves high-quality content that provides value and has depth and relevance.
How can we help you?
Our expertise at Arttia Creative is in designing unique high-quality content for your website. Our SEO copywriting and design expertise ensure your content includes the compelling copy you need together with a robust User Experience, great design and enjoyable user journey. So the visitors to your website stay around longer, read more about your business and are more likely to get in touch.
What is it?
This update started to take into account data from some of the social channels such as Facebook and Twitter, aspects of which have an influence on search results. It still seems unclear the level of impact social has on specific search rankings.
What does it mean to your business?
Building your brand on social channels can increase your reach, not only on social channels but on Google. This update takes into account aspects such as; the number of people that like you on Facebook, number of shares, number of Twitter followers, Tweet mentions and Google+ circles.
How we can help you?
Creating outstanding, sharable, creative content for your website and blog. So you have awesome authority content that sets you apart and encourages your audience to promote your business for you.
What is it?
An update that increased Googles speed when delivering search results. Plus, it increased the size of its index helping it have a larger resource to use for results.
What does it mean to your business?
Google is the most used search engine, designed to deliver the best results to its users. There are search engines being used. But if you have a limited amount of time and resources to allocate to SEO, then focus on Google as it has the biggest market share.
How can we help you?
Our focus is to keep up-to-date with changes in Search Engine Optimisation, so you don't have to. We focus on keeping up-to-date and working towards a greater understanding of Google (including other search engines such as Bing, when relevant) so your website and content has a better chance of being found online.
What is it?
Suggest, displayed in a drop-down below the 'search box' when users type in their queries. Kind of an 'autocomplete' function.
What does it mean to your business?
A handy tool when doing your keyword research for Search Engine Optimisation. These 'suggestions' can be an indicator of 'search volume' and provide ideas for alternative keywords or long-tail phrases. Enter the Search Term you want to rank for, and it can give you a range additional phrases you can include in your strategy and content.
How can we help you?
Keyword research takes time and knowledge to get the strategy you need to be found online. We use a range of the very best pro SEO software to research the keywords and topics you need. So your business has the greatest chance of ranking above your competitors, driving traffic and sales enquiries.
[bctt tweet="Find out what Googles algorithm updates can mean to your business. Read our article here." username="arttia"]
It's both interesting and enlightening to see how Google has changed and enhanced its delivery of search results over recent years. Overall you can see clearly that Google wants to deliver the very best, most useful results for its searchers, clamping down on any spammy, low-value content or those trying to 'play' the system.
If you're serious about being high on Google search page results, and it's important to your business, then setting yourself a baseline of producing outstanding, useful and relevant content for your audience, on a regular basis, should keep you in line with Googles objectives.
Need help with Search Engine Optimisation and Creative Content for your website?
We're here to assist.
We're keeping on top of the latest changes in search marketing, so you don't have to.
Your SEO and Authoritative Content Creation
We can work with you to create your Search Marketing strategy and new content and deliver it for you. You get the traffic and enquiries that your business needs.