How a Website Consultant Can Save You Time and Money
Do you want to save time and money?
An obvious answer. Every business wants to save time and money.
Having a professional website continues to be a critical element of every business. It's your bit of the internet that you own, and you control, never compromised by the whim of the social media giants or free platforms. Would you solely trust your brand on a platform you can't control?
Your audience still expects a professional website.
That being the case, there will be times when you need to take your website up a notch, align it better with your goals, add extra functionality and features or increasingly, a full website redesign.
A Website Consultant's goal is to solve these website problems with your business's success in mind. An experienced Website Consultant will listen carefully to your unique needs, your business goals and aspirations and will work with you to formulate an actionable plan to meet those goals. With an outcome that will probably save you both time and money.
Typically they are a person who can provide you deep design industry insight and provide relevant, in-depth expertise in website design, User Experience (UX), Search Engine Optimisation, website marketing and digital strategy. They have proven wide and deep website design experience.
In this post, I'm going to outline the time and money saving reasons for investing in a Website Consultant, showing you in detail the benefits of their engagement.
You need a Website Consultant for your project
Create the right specification for your project.
Fast-track your website design and development
Avoid missed features and specification requirements
Overall, save time and money!
The best ways to make use of a Website Consultant
You may be in the process of planning your website redesign. You may be the person within your organisation who is tasked with improving the performance of your website. You may be in the middle of a new website project and are feeling a little out of your depth and lacking accurate information. You may be in the process of writing a project brief to commission a new website.
In all of the above situations, a Website Consultant will save you both time and money. They are there to consider your business model, your audience, your competition, and how all of these considerations play into your project.
A Website Consultant will probably not suggest their services if they don't believe there's a relevant 'fit' or a good chance at a reasonable Return On Investment (ROI). While they can't guarantee an ROI and will need to develop an understanding of an industry's key to success, their experience with previous projects and businesses gives them a way of accelerating your project and therefore accelerating your business growth via your website.

5 Reasons why and when you need a Website Consultant
You want more from your website. Your customers want more from your website.
More complexity, more functionality, more features, lead generation (lead funnels to build your email list), better graphics, dynamic content, more visitors. But where is the best place to start with a website redesign or redevelopment when it isn't your main expertise? You know what you want to do, but how best do you achieve it to an appropriate time and budget?
Website redesign projects are multifaceted things which can very often go wrong. They need detailed planning and discovery before anyone designs or codes anything. Website redesign projects can run into roadblocks that you haven't anticipated, terminology that you may not be familiar with or team communication issues. A Website Consultant is there to guide you before the project starts or act as a Project Manager and go between during the project timeline.
You're stuck on content. Whether it's new website content, a blogging strategy, case studies or white papers, creating quality content takes research, time, planning, scheduling, creating and promotion. You understand your business inside out, and you are probably best placed to build content for your website. However, you need to be realistic about how much time you need to set aside to create this benefit-led, optimised content. A Website Consultant can work with you to prioritise your content creation ideas, help you set up an editorial schedule, bring together your colleagues with specific expertise that could be relevant and help you engage your sales team to bring their own, particular front-line insight into your content. They can then work with you to develop a content creation process that will help you to keep on track.
You need an expert go-between for both your colleagues and your developers. Very often miscommunication delayed communications and misunderstandings impact the progress of your project and potentially increase costs. You need someone who knows the best way to deliver website projects on time with proven processes and realistic expectations. A Website Consultant who has been in that situation a hundred times before and has proven solutions.
You're indecisive about which direction to go first with your website or content and need informed direction. An experienced Website Consultant works with you to assess which of your priorities will help you reach your goals faster and within a relevant budget, in an impartial, informed way.
You need to understand your website metrics. You can view your traffic data and Google Analytics, but how do you interpret what data is the most relevant and, more importantly, how do you take the right kind of action. You need methods and techniques to help you get to know the people visiting your website. A Website Consultant can guide you through this process and advise on technologies and strategies to understand and engage with your audience. They have proven Search Engine Optimisation (SEO) knowledge and know the latest techniques and best practice. They will have an SEO track record and use the best, 'white hat' techniques.
You need a Discovery Workshop to plan your website project
We work with you (and all stakeholders) in an active workshop session to map out, scope and plan your website project. You end up with a detailed specification for your project that you can use for delivery.
Situations when a Website Consultant is invaluable
You're creating a website yourself with one of the D.I.Y. services, and you're a little stuck with how to progress. You've realised there is more to putting together a professional website than signing up to a drag and drop platform. You've realised that their messages of "web creation made easy" are somewhat misleading. A Website Consultant can guide you through the process, saving you masses of time. They will guide you with design best practice, copywriting, SEO and engagement strategies.
You're planning a website redesign, and you need reassurance that the actions you take are the best possible for your business. You need to know what changes to make that will have the maximum impact; which design direction best fit your business and what website redesign strategy is needed. Which bits to keep and which to remove or improve. An experienced Website Consultant can guide you through this process.
You need to produce the very best content for your website, landing pages, business blogs. However, content creation bottlenecks can occur on any project. Your team and colleagues have day-to-day work they need to priorities over website content creation. A website consultant can help you create the right type of content for your site. Content that written specifically for the web is Search Engine Optimised and showcases your business.
Your photography may not be right for your website. A website consultant can organise photo shoots, storyboard with a photographer, source props and locations and organise everyone and everything to be in place for a fantastic photo shoot. Providing you with hundreds of really great images, not only your website but for your ongoing marketing activity.
You probably need graphics, icons, PDF's to enhance your website design. These are best created with professional graphic design software and an experienced designer. A Website Consultant will be able to help you source and create these assets.
What website budget should you set aside?
You need to calculate realistic budgets and investments for your website project that will meet your list of goals. A Website Consultant can provide you impartial, yet informed insight about budgets and investments. A basic website just doesn't cut it in today's hyper-competitive online world, and you need to know you're planning the right investments.
It's not your field of expertise, however, within your organisation, you have been tasked with either a full website redesign or creating a strategy to improve website traffic and enquiries. You need to create a realistic budget and predict a realistic R.O.I to present to your business leaders so they can approve a go-ahead. An impartial Website Consultant is ideally placed to work with you to estimate and discuss what R.O.I. to expect for your website project.
Website project that's not going well
You're in the middle of a website project that isn't progressing as expected. Perhaps you're working on a new website redesign project, where you are feeling out of your depth and lacking in accurate, unbiased information to accelerate the project to a positive close. Maybe communication between you and your web professional(s) isn't flowing as well as it should and you need an experienced go-between.
You are in the process of writing a website project brief to commission a new website, and you need to get the right information across to prospective companies in a language they understand. You need an educated and experienced eye to help you prepare a written brief so that a website partner can quickly provide a proposal. An experienced Website Consultant has most likely received many website design briefs as well as writing many and can provide you with valuable insight.
You have created an online product or service and feedback from customers is that your on-boarding process is either lengthy or unclear. You may be getting a large amount of support requests or abandonment. If these are happening then your probably missing out on sales and customers. An experienced Website Consultant will work with you to identify key issues and provide you with actionable solutions.

How your Website Consultant saves you time
Time is a critical asset for all businesses. Spending the right amount of time on the right things helps you to reach your business goals faster. Trying to be the expert in all things takes a lot of time. For example; I have an accountant who is a specialist in accounts, so I don't need to be. I trust their years of experience and guidance knowing that they have probably seen every problem and provided solutions for most accounting situations. I trust their expertise. The same goes for website design and development.
If you've never created a website or commissioned a website project, how do you know how long it should take, what investments are required and what expectations you should set. You need expert guidance from someone who's been through the process many times.
How your Website Consultant saves you money
Website's and digital marketing are a constantly changing landscape. Keeping up-to-date on all of the latest trends and techniques in this space is very time consuming and your time is money. Maintaining a website budget on track and not spiraling out of control can be challenging.
Understanding and implementing cost-effective website design or marketing activities that will deliver the most value can be challenging unless you've been in that situation many times before.
Knowing what to do and importantly how much should things cost, so avoiding unnecessary budget issues, project delays or delivery problems will save you money. Is your time better spent doing the thing that you're excellent at and letting an expert manage your project?
An expert Website Consultant will get things moving quickly and keep an eye on budgets and delivery schedules.
10 ways a Website Consultant will improve your website
1. Check the quality of your website
A Website Consultant can run an unbiased complete technical and goal orientated audit of your website from which they can provide you with an effective plan of action, in plain English.
2. Help you write a website brief
Most website projects go wrong due to a miss-match between a business's goals and the brief written. Nuances that you can miss add up to a disaster project. Writing a clear brief that a web professional can act quickly and cost-effectively will improve the outcome of your website project.
3. Scope out your website design project
Planning is the most important part of a website project. Before any design or code is created, you need to thoroughly plan your site. How do you decide what pages you need, what content needs to be created?
What will the user journey be? What features you should add first that will bring you the fastest R.O.I?
What are the best answers to these questions?
A Website Consultant can work with you to scope out a detailed website design project that will deliver the best results for you.
4. Help you brief your designer or developer
Writing the brief is just the start of your website project. Fast and effective project briefing saves you time and money. Wasted meetings with no defined goals or timescales add to project delays, feature creep and budget overspend. Your Website Consultant takes their years of experience and can fast-track your project liaison.
5. Create a content audit and action plan
Don't throw the baby out with the bathwater. You don't want to damage any valuable website content, so how do you find out which of your website content is currently bringing the most value and what content needs further iteration or additions. A Website Consultant can audit your content from both a technical and visitor perspective. They can identify missed opportunities, SEO issues and design disasters, providing you with peace of mind that any content changes or additions will best improve and not harm current traffic and conversions.
6. Identify missed opportunities for leads and conversions
Most websites miss obvious opportunities. However, they are typically only obvious to an experienced web professional. A web professional that has deep and extensive knowledge of lead generation and conversion optimisation. A Website Consultant will help you identify lead generation opportunities and help you implement them on your website in the most cost-effective way. They will be able to advise you about typical timescales for implementation and what results to expect.
7. Identify performance and User Experience issues
Bad user experiences cost you money. You might have the best product or service in your sector, but bad user experiences hold brands back from their online potential. Performance and failed engagement and conversions impact your bottom line. Improving and prioritising your website user experience should be an investment that continually pays off and the rewards could be staggering. User experience and performance issues can include things like; poor design, confusing navigation or page load performance.
Get these right, and these refinements can have a dramatic effect.
8. Run a project risk assessment
You have an idea for a website project, a site feature or marketing campaign. Typically, these will need time and investments to make them happen. Having a Website Consultant run a project risk assessment can provide the insight into success factors or contingency plans. Sometimes additional tasks are only discovered once a project is underway, this can impact on timescales and budgets. A risk assessment by a Website Consultant could identify these in advance.
9. Be an informed website project manager
Project management done right saves you time and money. An independent Website Consultant overseeing your project provides an impartial participant that makes certain your project deadlines are met, content delivered, and budgets followed, helping get your project delivered faster and launched on time.
10. See the bigger picture
When you are close to a project you can't always spot the obvious, for example, common website errors, missed goals or missed opportunities. Your website's long-term success is dependent on defining the purpose of your site and how you implement it in reality. A Website Consultant can look at the bigger picture, help you prioritise the best actions and provide you with impartial and objective advice.
Important credentials of an experienced Website Consultant
Belinda White - Website Consultant. I specialise in websites; that's all I've done for the many years. Nothing else, no other distractions. I've spent these years putting design and development into practice, trying things, testing things, discovering the aspects that work well. I've produced creative work for National well-known 'blue chip' UK brands through to small local businesses and solo entrepreneurs.
I see the same problems and issues over and over again. I know the important actions you need to take to future proof your website design project or future proof your digital marketing campaigns. I have been working for many years within Search Engine Optimisation, the nuances and detail that results in higher search rankings.
Putting in the hard, day to day work and processes that provide the results my clients expect gives me an immense depth of knowledge right here for you to access.
I know every nuance of a website project, every nuance of SEO, every nuance of marketing via your website (lead funnels, email marketing). That's all I've focused on for many years.
I can probably predict the next five problems you will have with your website project because I've been there, worked through them and solved these problems. I know what works and more importantly what doesn't work and what you need to avoid, saving you time and money.
Because I've been through this process many times, I can help you accelerate through them. I can lower any risks with your website design project. This level of experience will save you both time and money on your website project, reducing your risk profile and presenting the options available to you in a logical format.
When you purchase a primary business product or service, you typically speak to experts or specialists in that field before you make those big decisions. The same applies to your website.
I've spent nearly two decades working in the design and web development profession, putting design and website projects into practice. For a wide variety of businesses and sectors. Years of testing, iterating, learning from, noting the nuances and understanding this one subject in the greatest depth possible.
Because of this, I have a tremendous depth of knowledge that you can use. I know this space inside out, backwards, providing expertise that I can pass on to you and your project. This long-term experience, discovering what works and more importantly the things that don't work, means I know the things you need to avoid that will save you time and money in the long term.
Being an experienced designer and communicator never goes out of fashion, even in this fast moving digital age. The same skills that apply to traditional design and communication situations (from my graphic design background) fit perfectly with the current digital landscape. My long-standing expertise will be invaluable for your website project. Why not tap into my level of experience?
You need a Website Consultant for your project.
Tap into over two decades of web design and creative marketing experience.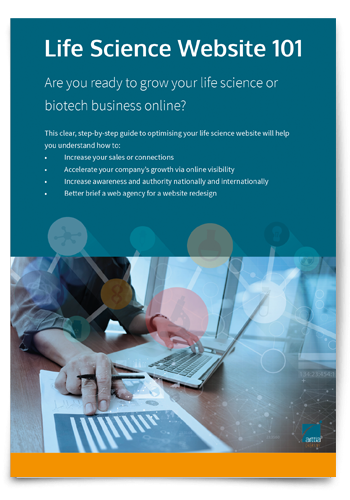 FREE 50-Page Guide. How To Take Your Biotech or Life Science Website To The Next Level.
Let me show you how to take your Biotech or Life Sciences website to the next level. Driving business growth.
Download our FREE 50-page in-depth eGuide which shows you how to increase quality leads from your website and create outstanding digital marketing for your Life Sciences or Biotech business.
"An exceptional resource on how to represent your life science business online. It stands out as a practical guide on how to use your website as part of a marketing mix specifically to engage with life science customers."
Life Science Business Consultant