SEO For Life Science Marketers. What You Need To Know.
Why invest in SEO marketing for your life science business or organisation?
In a world where everything is online, SEO is a must.
SEO influences many aspects of your life science commercial business – from increasing traffic to your website and visibility to building your life science or biotech brand.
Who's searching for what you do and how can you connect with them?
SEO should be a primary part of your marketing strategy and a long-term investment in brand and out-reach.
SEO for life sciences helps you reach out – impress investors, attract top talent, reach new partners and generate high-quality sales leads if you are at the right pipeline or commercialisation stage.
Your sector requires a discerning nuanced approach to SEO, so working with a specialist who has experience of the challenges you are likely to face, will be an excellent way for you to get a head start with visibility online.
At Arttia Creative we have case studies and detailed data that prove SEO will make a difference to your life science business or organisation.
Search Engine Optimisation can be a confusing subject, especially for a life science marketer trying to juggle multiple demands from colleagues, deadlines and targets.
How do you action the best digital marketing tactics for your project?
How do you find the best partner to deliver your SEO project?
What do you need to know to make a start?
Help is here. This article aims to guide you through the fundamentals of SEO for your life science website so you can be the best-informed buyer and have a benchmark for what is possible and how SEO helps your digital marketing and online visibility.
SEO – Search Engine Optimisation, the practice of increasing the quantity and quality of traffic to your website through organic search engine results (Google).
SEO analysis for your Life Science business or organisation
Life Sciences, Healthcare and Biotech sectors are finally starting to invest in their online presence. Typically life science marketers have focused on the usual industry promotional routes such as conferences and sales teams. Many life science marketers are finally moving their focus towards their online presence.
When starting your SEO campaign, a great place to start is creating a digital overview of your company, website, industry, and competitive digital landscape. By doing so, you should be able to make educated estimates on how much time and work it will require for your site to conquer the desired Google high rankings. Don't worry, we can help you with this, with one of our SEO review sessions.
Article topics covered (quick links)
Add a header to begin generating the table of contents

Life Science audience profiles
Life Sciences business and organisations like yours are likely to have more than one audience that you are trying to reach. These multiple audiences are looking for different things that you provide. Your audiences could range from buyers of laboratory equipment to partners, investors or new team members. They may use the same phrases to search for your business or the services you offer, or by the very nature of their background, may use slightly different words to describe what you do and what they are looking for. You need to take this into account when creating your keyword lists and related website content.
If you haven't thoroughly defined your audience profiles yet, we are here to help. We have a vast amount of experience understanding the audiences you serve. As life science website specialists, we have developed a deep understanding of sector needs and nuances, which we bring to your website design and life science SEO project.
Audience engagement is critical for an SEO strategy that creates sales or enquiries. It's not much use getting traffic from search results if visitors don't engage with your brand or your offering. If you attract and engage the right visitors, you'll have a lower bounce rate and the chance to educate and inform potential customers.
As a specialist, experienced life science website designers, it is our priority to design your life science website to create the engagement you need. To provide visitors with the information they need, quickly and provide them with an easy way to take the action you need.
You must create and plan a clear follow-up process after someone engages with your website. We can help you design high performing marketing funnels that save you time and quickly connect with your customer.
As life sciences, biotech, health and medial sectors can be very niche, especially if you are a leading innovator and there is nothing comparable around that customers are familiar with, keyword volumes can be very challenging. For SEO some keyword phrases might have no volume data but are highly relevant to your customers. You should still include these phrases in your content. Think of a keyword hierarchy to target, for example, a broad term, then down to the specific niche phrase.
Lungs > Cancer > Diagnostics treatments for lung cancer >> "your innovation"
Or focus on phrases around the problem that your innovation solves (related phrases). Including these in your content alongside your niche phrase. Consider topics of content to educate around the innovation solutions.
Your website visitor is on a journey. The "Searchers Journey" can be a simple or quite complex, depending on what they need help with or are looking for.
Google does take into account "searchers satisfaction". Audience research and understanding is a critical part of your life science SEO strategy.
What is your audience looking for
How can we created the most valuable page to deliver this
Your website content needs to reflect and support the journey that your customers are travelling. If they find your content at every stage of their journey, they are more likely to remember you, learn about your brand and take that important step of getting in touch.
Your buyer's journey is the research process a person goes through before making a final decision. There are probably four stages:
Awareness: They know they have a problem they need to resolve
Interest: They need to understand more about their problem. At this stage, your customers are probably looking for potential solutions to their problem.
Consideration: They are comparing different solutions on the market.
Conversion: They are ready to take action to find their solution.
Here is an example of what a life science searchers journey could look like:
Awareness: Dr Musson needs an advanced way of analysing a set of data for their clinical trials. She searches the Internet for potential solutions.
Interest: After reading a life science data case study about their process for data analysis she decides that this type of method is the way forward. She begins learning more about different types of data analysis at the clinical trial stage, ideally from your blog or case studies.
Consideration: Dr Musson realises he needs a particular type of reliable data analysis software. She finds that most posts recommend a few tools and begins comparing them. She reads reviews, asks questions in forums and consumes the educational content available on the different blogs.
Conversion: She has concluded that your brand and offering fits exactly what she needs and decides to take advantage of a 14‑day trial of your data analysis software. Convinced that you're the right solution for her, she proceeds to sign up for a demonstration or trial product.
Also, how can you answer their 'next' question?
Once you have answered the searcher's question, not only with your written content but with the whole user experience and enjoyment of visiting your site. Fast loading, well designed and a real pleasure to interact with.
How can we then address the visitors 'next' possible question?
How can you provide more information (downloads, papers, additional articles, help pages, FAQ's) about the thing they are looking for. So they don't have to go back to Google to move to their next stage.
Having this searcher/customer empathy will help you craft the best pages and content for your visitors.
Make sure your content is 'creative'!
Can you create interactive tools specific to your customers, something that is difficult or impossible for your competitors to create? This can range from unique infographics, filtering techniques, unique images, graphs and charts. Providing your visitors what they need without browsing further.
Need help with this? At Arttia Creative, not only do we provide specialist Life Sciences and BioTech Search Engine Optimisation services, we can create all of your visual marketing materials and creative campaigns. We have over 30 years of experience with creative design, graphic design and visual communications.
Life Science keyword research
The importance of keyword research lies in understanding your audiences and how they are searching for your life science research, innovations, services, or products.
For your keyword research consider the following:
What are people searching for?
How many people are searching for it?
In what format do they want that information?
We are here to help you to carry out keyword research to find top conversion-driving search terms for your life science business. This activity includes discovering keywords that your competitors rank for, finding new keyword opportunities, as well as filtering and analysis of the opportunities around these phrases.
Life Science SEO has many nuances – search volumes may not be massive; however, they could be highly valuable. Your audiences are unique and very often in specific niches. Research means completing thorough keyword research will help to determine the best phrases to include in your content and marketing planning.
Competitor keyword research
Understanding what your competitors rank for, including in-direct or similar markets, is an integral part of your SEO and topic and keyword planning—understanding your market, especially if it is a crowded or new space that you are entering. If you have an innovation that is creating a whole new market, then you may only be able to compare similar sectors, still a useful way of finding out what people are searching for.
Either way, discovering what is happening within your market will help you decide which keywords are worth you targeting, what are your competitors missing, and how can you gain a competitive edge.
Understanding what someone is looking for when they enter their search query, why did they type what they did, what is it that they are looking for. Unpicking this can be somewhat challenging. Google aims to provide searcher with the most relevant results and endevours to predict what the searcher is looking for in the results it provides.
Acording to ahrefs, there are four types of search intent:
Informal
Navigational
Transactional
Commercial investigation
Your aim is to rank high on Google for as long as possible. Untangling the reason behind a search and creating the right content is invaluable.
Your content needs to be delivered via a well-constructed website that the search engines can crawl, index and understand. Your website designers need to have a detailed understanding of SEO to design, plan, create and construct your website, right from the start of your project. Retro-fitting an SEO plan to a completed website is a bad idea, takes longer and means you will probably have to change some of the structure of your website. Why do that?
If you incorporate a great search strategy right at the beginning of your life science website design project, you'll save time and get better results right from launch.
The reality is, sometimes a small technical issue can result in poor user experience, hold back your rankings, and even get your site under a Google penalty.
Make sure the website design agency you engage has an understanding of an SEO first process. SEO first means they should cover aspects such as; UX (user experience), information architecture, structured content, significant mark-up, performance considerations, schema, responsive design considerations and how to map a keyword strategy to your content.

Content for life science SEO
Content is where an SEO first web design strategy can save you time. During the process of creating the content for your website, you need to have your SEO plan open as a reference.
Whether you are writing your home page, service overview, blog articles, product pages, an about page, testimonials, videos or anything else you create for your website. Keeping in mind, your audiences search journey and the keywords you want to rank for will help you to blend in and speak to those search visitors. But keep in mind to write for humans first, Google bots second.
SEO copywriting is a skill worth investing. A good SEO copywriter will gently and subtly weave and blend your keyword and SEO strategy into your copy, microcopy and calls-to-action. Which means your website will provide an excellent experience for both visitors and Google.
Planning an ongoing content strategy is a priority for SEO ranking. Regular, fresh content is an SEO factor. Both Google and your visitors will appreciate new content. New content demonstrates your desire to showcase your innovation, tell your story and keep your customers informed and answer their questions.
We can work with you on your Content Marketing – to create a content plan for both launch and ongoing publishing and engagement.

Design and UX (User Experience)
SEO has a direct partnership with the design of your life science website and your User Experience. If your visitor connects with you from a search result then lands on a poorly designed website with a confusing array of content and menus then they are likely to click back to the search page they came from. Not a great experience for anyone...
Consider at least the following.
How easy is your site to navigate?
Do you have quality content that makes visitors want to stay and engage?
Is your site secure, fast and mobile-friendly?
Visitors expectations are high. Finding the right result in search and then landing on a website that quickly gives me what I am looking for is expected. High expectations mean that web users expect more from the companies they're researching, and that applies to life science and biotech business as much as any other modern B2B businesses.
Blending a Search Engine Optimisation strategy and carefully designed site with an excellent User Experience will deliver results for your Biotech business. A tailored search strategy brings the right incoming visitors, then together with outstanding User Experience keeps them on your life science website, to interact, discover and engage.
The minimum benefits of website design and UX:
Reduced bounce rate from search - they find your website, enjoy their visit, so stay longer
Visitors learn that your brand and business value their experience
The right visitors land on your website
You get better conversions - visitors take the action you want them to
Promotion and publishing - amplification
You've finalised your new website, it's live and looking great. The reality is without promotion, no one cares. You need to tell the world to go and visit your website actively. The idea of building it and 'they' will come is no longer relevant, even for well-known brands. It would be best if you had a content marketing and promotion plan in place to help to drive traffic to your offering. Understanding where your audiences are online and how to reach them will help you to get your content in front of the right people.
Arttia Creative provide you with regular digital marketing support for your life science marketing. Our creative team deliver regular content creation for busy life science marketers and business development managers.
Results, data and what it all means to your business
Google Analytics and the Google Search Console provides a dizzying array of information and data. It can be challenging to understand what it all means and how to interpret the data into something meaningful for both your website content and your digital marketing.
Arttia Creative strive for results and transparency. That is why every week you`ll get a full set of detailed and easy-to-understand reports to see what has improved and how the whole process is going.
Time-lines, what to expect
It would help if you were realistic about how long it is going to create your SEO strategy, put it into action and how long it will take for it to show results. SEO is a marathon, not a sprint. It takes time for Google to index new content and gain an understanding of when to show your content in the search results.
Realistically allow for six to twelve months for strong visibility in the search results pages, especially if you are in a competitive space. SEO ranking will happen faster if you have a well-thought-through content creation and publishing schedule in place.
Partnering with Arttia Creative
We know busy life science marketers don't have the time to keep up-to-date with Googles ever-changing indexing and SEO requirements. For Biotech, Life Science, Healthcare, Pharma, Geology and Energy sectors Search Engine Optimisation (SEO) is a fundamental component of your website and your online marketing. After all, what's the point in having a beautiful website if the right people can't find it or your business?
At Arttia Creative, we include SEO right from the start. For maximum impact. Search Engine Optimisation works to help Google to find your life science business. And if Google can find your business, so can your customers.
At Arttia Creative our Search Engine Optimisation expertise encompasses both the technical and creative elements of optimisation. Together with information architecture, a detailed content strategy and User Experience. Modern Search Engine Optimisation requires a transparent, multidisciplinary approach, and we cover all the disciplines needed for effective results.
We'll craft both the written copy on your page, enhance your user experience, user journey and the critical design elements for maximum conversions.
Need help with your digital marketing and Search Engine Optimisation, let's talk.
Belinda White | Creative Director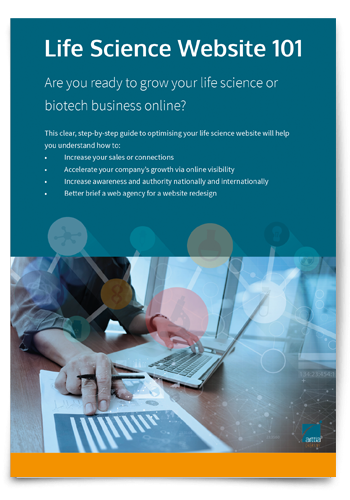 FREE 50-Page Guide. How To Take Your Biotech or Life Science Website To The Next Level.
Let me show you how to take your Biotech or Life Sciences website to the next level. Driving business growth.
Download our FREE 50-page in-depth eGuide which shows you how to increase quality leads from your website and create outstanding digital marketing for your Life Sciences or Biotech business.
"An exceptional resource on how to represent your life science business online. It stands out as a practical guide on how to use your website as part of a marketing mix specifically to engage with life science customers."
Life Science Business Consultant