Why You Need to Make Your Website Content Awesome
Creating and crafting content is key to your website's success. The key to creating a website that drives traffic converts visitors and drives business. I've crafted content for Life Science business websites for over 15 years. In that time I've fine-tuned my processes and helped clients create the authoritative content they need for a beautiful and lead generating website. If there is one element that can separate you from your competitors, it is creating and maintaining effective, business-driving website content for your business.
Start with your customer; is your content really talking to them?
Your customers should be centre stage.
Is your website giving them the messages and information that they need?
Are you getting straight to the point and providing value?
If not, it's time to rework your website content.
Is your website content crafted and created to the very best it can be?
Does it deliver more value than your competitors?
Let's face it, mediocre content can harm your brand. If your website traffic is low, bounce rates high or you're just not getting the shares or likes on social media you'd like, then perhaps your content doesn't match what your customers are looking for.
When someone clicks on a link to your website they will make a judgment in a matter of seconds. So get straight to the point and tell them what you do and why you do it better than anyone else. Oh, and make sure it's amazingly awesome.
You've a small window of time to grab their attention and hook them into finding out more about you and what you offer.
The best way to do this is have awesome content at every point. Unique and useful website content is more likely to; engage your audience, encourage them to click deeper, get shared as high value information, get linked to and therefore drive traffic and impress Google.
[bctt tweet="why you need to make your website content awesome. Read our article here." username="arttia"]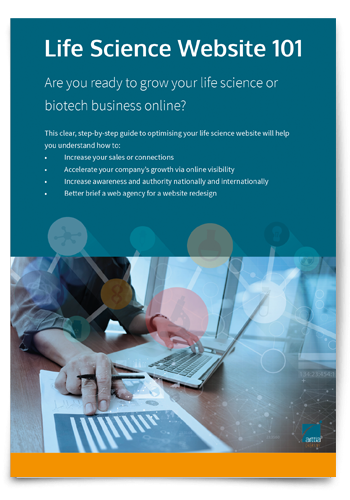 FREE 50-Page Guide. How To Take Your Biotech or Life Science Website To The Next Level.
Let me show you how to take your Biotech or Life Sciences website to the next level. Driving business growth.
Download our FREE 50-page in-depth eGuide which shows you how to increase quality leads from your website and create outstanding digital marketing for your Life Sciences or Biotech business.
"An exceptional resource on how to represent your life science business online. It stands out as a practical guide on how to use your website as part of a marketing mix specifically to engage with life science customers."
Life Science Business Consultant
Content is at the heart of your website; is it time to review it?
If your website was developed a few years ago, or even one year ago, it is most likely due for some urgent fine tuning. The sooner you start, the sooner you can make an impact, but where is the best place to start?
The best websites are content first creations, although there should always be a symbiotic relationship between brand, design and content. For these to work in harmony, each element must work together with other aspects, making it crucial to review them together at all times.
Perhaps your products or offering have evolved and changed. Maybe your customers have changed and are looking for something different. Maybe new competitors have entered your space, and you need to showcase yourself in a more engaging way.
Your website user experience and overall journey need to be led by the goals of your business, together with providing relevant information and value to your visitors. The internet is increasingly competitive and crowded, and you need to stand out more than ever. Is your current content good enough?
Your website visitors are probably checking out quite a few companies online as they search for a solution. Having the best, most awesome content is your way of getting ahead of your competitors and getting your visitors to return.
It's time to get planning;

map out your current content
write out your goals
does your content reflect your authority in your area?
does your content match your goals and your level authority?
what is your perfect customer looking for?
can they find it or identify it quickly on your website?
is your content grabbing attention
is your content engaging and building trust
It's time to take action
clearly, list content that you think isn't currently covered in your website
priorities – what can be added to or created quickly (what are the quick wins that you can do now)
if customers can't find the content they are looking for, map out what is missing or hard to find
commission or allocate someone or a team to create this revised or new content
check and recheck the new content, make sure it is outstanding and delivering more than your competitors
if it's not, refine - refine - refine
upload to your website
measure and change (make sure you set up methods of seeing what is working and what needs to evolve further)
Let your visitors get to know you first, build trust
Your visitors won't buy from their first encounter with your business or brand. They want to get to know you, to feel an affinity with your brand. They want confirmation that you have the answers to their questions. Is your product or service what they are looking for, do you seem reliable and knowledgeable? This can take time, especially if it is a big ticket purchase or investment.
Your aim is to become a trusted and valuable resource for new and current customers. You need to become their go-to expert when they need your type of products or services. It can take many visits and touch-points before they are ready to buy or take the action you want them to.
Help them get to know you:
Blog regularly with high-quality information
Update your case studies or portfolio
Provide valuable downloads or giveaways (ask for an email address in exchange)
Use social media to have a conversation
If you can, start a podcast
If you can, run a webinar

Show your visitors you are listening to them
Create content that visitors can relate to, situations that they find themselves in and how your service or product helps them. Provide them with the answers, information and guidance they need. But make sure they are well written, well designed and well presented, with your brand to the fore at all times.
Show you can 'solve their problem'; precisely, define the main 'thing' your product or service does to help your customers, why it's the best one for them, and you're the best company to provide it.
Quality not quantity
Stop pushing out lots of low quality, thin content – Google doesn't like it and neither do your customers. Spend time on fewer, higher quality content and long form assets. Creating quality requires time and effort. Spend your time crafting one piece of absolutely outstanding content that is in-depth, rather than large amounts of material that are short, thin or mediocre. To engage your audience and get shared on social media you need create the best and most engaging content for your audience. People love to share things that make them look good or sound knowledgeable to their peers, and if yours is the best, they'll share it and promote it for you.
If your content isn't getting the attention, it deserves. Not being shared or 'liked' then you need to create different content. Ask yourself what you could create that your number one client would be interested in sharing with their peers. Are they interested in useful blog posts, industry reports, video interviews, sector specific podcasts or your individual thoughts and insights?
Create one piece of awesome content (long-format) – a definitive guide or how-to guides then share it with your number one client via LinkedIn, Twitter or Facebook. If your visitors can see the value provided, they are more likely to pass it on and share it with their connections.
Spend time creating in-depth, very useful articles, case studies or authority pieces. This is your cornerstone content. Your 'evergreen' content. Consider what help or assistance your ideal client or customer needs. Do they need help understanding what they are buying, what aspects they should be prioritising or understanding what you provide that is different to the competition?
Answer their questions; provide help and guidance, show them how you do what you do to deliver the best product or service for them and showcase your difference and your unique offering.

Need help creating outstanding website content?
Experts in creative, authoritative content; design, graphics, documents, copywriting, SEO, photography art direction and retouching. Content conversion optimisation.
Contact us and let's discuss your website content needs.
Essential website content, that you must make awesome!
Copy – the words on your page
You need to write for the web. Write informative, short easy, to read text on your core pages. Write great headlines, spend a good amount of time crafting the perfect headline. Check out the Headline Analyser from CoSchedule. This is a great tool to use to craft that perfect eye-catching headline. Start with the benefits you deliver and follow with testimonials and confirmations. If writing isn't your strongest area, engage a copywriter. They'll help you develop your tone-of-voice and refine your ideas, as well as writing SEO friendly content that will convert, high-quality blog posts or news articles and high-quality case studies or guides and how-tos. All well written and proofread to showcase your expertise. Our go-to copywriter - >> Haydn Grey
Images
Make sure all images on your website are the highest quality, both in resolution and in relevance. Images help break up your page content, draw the eye to key information and help set the tone. Check out my blog post all about how to get the best photography for your website.
Most websites need a lot of images, here at Arttia Creative we have designed many Life Science websites, and we know that having a large amount of stunning, high-quality photography is an invaluable part of your websites content.
Make sure yours is unique to you and relevant to the content on the page. They have to sit together and tell a compelling story. If you don't have a good resource for images for your business, then consider commissioning a professional photo shoot. When you commission a shoot, make sure you plan out what is needed before the shoot - create moods boards and a 'picture list' so that you know every area will be covered on the day. If you're not confident in this area or simply don't have the time, then commission a designer to art direct your project and work with you to create the images you need for your website. A good Art Director will typically look after the following; organise the location of your shoot, buy or source relevant props, create artistic style boards and direct the shoot with the photographer so you can relax and enjoy the experience. Our go-to photographer- >> The Bigger Picture
Assets
Produce 'assets' to set you apart and deliver value. Create portfolios or case studies that are detailed and showcase your processes and results delivered. Create useful downloads or takeaways – insist on getting this type of content professionally designed, not just a Word document, but a professionally designed product with beautiful typography, graphics, possibly with interactive elements designed for a multi-media experience. Make sure your assets are findable and invest in Search Engine Optimisation for these cornerstone pieces of content. Insist on an email address in return for a download so you can continue to engage with interested visitors. Get the best website content.
Media
When creating videos, webinars or podcasts invest in the right planning, tools and software to deliver the best user experience to your customers. If it looks shaky, sounds poor and looks amateur visitors may move on to a competitor who's taken the time to invest. Plan your videos, webinars and podcasts in detail and schedule delivery and promote for the best results. Track and measure at all times. Add your SEO strategy to your video and podcast show notes or transcripts, so they are easy to find by a potential audience.
Producing awesome, relevant and valuable content isn't easy
Let's face it; it can be hard to create outstanding content, so set aside the time you need to create the very best. Content creation can be challenging, especially the excellent content required in today's business online space, content that sets you apart. It takes time and a level of expertise.
Need help? Then we are the right specialists to help you deliver it. We are specialists that take the time to understand your business, dig deep and showcase why you are different. Then we work with you put that across clearly and succinctly and within a great user experience. Don't underestimate the effort needed to produce your awesome content and the expertise and take involved to promote it.

Promoting your business online is challenging and fast moving. Crafting and creating content that sets you apart takes time, effort and expertise. However, it's well worth it and will help you stand out and get noticed online. And once created is an asset that provides value in the long term, time and time again.
You may not have the time or expertise to deliver the range of content your business needs. So you will need to find the right people to help you deliver your excellent website content. When produced well, it will set you apart and provide the results and returns your business needs.
Remember, when you have lovingly created your excellent content, promote it. Promote it again and keep promoting it. Tell the world again and again.
Are you serious about awesome, lead generating, business building website content?
You have expertise which you need to promote.
You may not know where to start or just don't have the time.
Arttia Creative are here to assist.